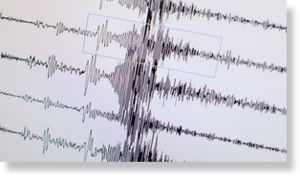 A strong earthquake struck off the coast of eastern Japan on early Monday evening, seismologists said, but there were no immediate reports of damage or casualties.
The 6.0-magnitude earthquake at 8.23 p.m. local time (1123 GMT) was centered about 113 kilometers (70 miles) east-southeast of Miko, the capital city of Ibaraki Prefecture. It struck about 30 kilometers (18 miles) deep, making it a shallow earthquake, according to the Japan Meteorological Agency (JMA).
Tremors with an intensity of 3 on the Japanese seismic scale of 0 to 7 were felt in several areas along the coast, which was heavily damaged by a massive quake and tsunami in March. Light shaking was also felt in Tokyo, the country's capital, but there were no immediate reports of damage or casualties.
The United States Geological Survey (USGS), which measured the strength of the earthquake at 5.9 on the Richter scale, estimated that some 4 million people may have felt light shaking. "There is a low likelihood of casualties and damage," the USGS said.
Because earthquakes with a magnitude below 7 do normally not generate tsunamis, neither JMA nor the Pacific Tsunami Warning Center issued a tsunami watch or warning. "This earthquake poses no tsunami risk," JMA said.
Japan, which is on the so-called Pacific Ring of Fire, is still recovering from an enormous 9.0-magnitude earthquake which struck off the coast of northeastern Japan on March 11, generating a large tsunami. The earthquake and resulting tsunami left at least 15,698 people killed while 4,666 others remain missing and are feared dead.