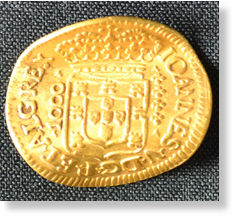 A 300 year-old Portuguese coin has been found at an archaeological dig site in eastern Newfoundland.
The gold coin, minted in 1708, was found at the Colony of Avalon archaeological dig site in Ferryland this summer.
The coin is bent into an 'S'. People who've studied that era said men at the time bent coins and presented them as love tokens to women they were courting.
Wayne Croft found the coin.
"I just gave a couple of shakes and I see this thing bouncing, and stopped the shaker, and I looked at it and there was a gold coin and I really just couldn't believe my eyes ... it's such a rich site...it's amazing...totally amazing," said Croft, who has been working at the site for 12 years.
"Really you don't know from the next scrape of the trowel what you're going to uncover."
It's the second time a gold coin has been uncovered at the Colony of Avalon site in the past three years.
On June 10, 2008, a gold Scottish coin, a Sword and Sceptre, dated 1601, was found at the Colony of Avalon archaeological dig in Ferryland.
The Scottish coin was issued during the reign of King James VI of Scotland two years before he ascended the throne of England as King James I following the death of Queen Elizabeth I.
The Ferryland area, south of St. John's, was used by migratory French, Spanish and Portuguese fishermen in the16th century.
In the early 17th century the British established a colony in the area, which had a population of about 100 people by 1625.
French soldiers sacked the town during their military campaign in the area in 1696.
According to Canada's 2006 census, more than 500 people live there now.
Archaeological excavation in the area began in the 1980s.