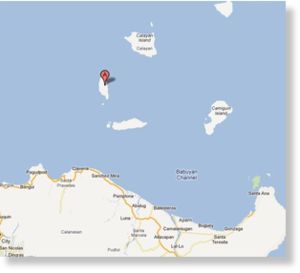 A strong earthquake struck the Philippine island of Dalupiri on late Thursday morning, seismologists said, but there were
no immediate reports of damage or casualties.
The 6.0-magnitude earthquake at 10.56 a.m. local time (0256 GMT) was centered less than a kilometer (mile) from the western coast of Dalupiri Island, which is part of the Babuyan Islands in the Luzon Strait north of Luzon island in the Philippines. It struck about 113 kilometers (70 miles) deep, making it an earthquake of intermediate depth, according to the Philippine Institute of Volcanology and Seismology (PHIVOLCS).
There were no immediate reports of damage or casualties from the area, which is mostly uninhabited. The United States Geological Survey (USGS) measured the earthquake at only 5.4 on the Richter scale but at a much shallower depth of just 20 kilometers (12 miles).
The Philippines is on the so-called 'Pacific Ring of Fire', an arc of fault lines circling the Pacific Basin which is prone to frequent and large earthquakes. Volcanic eruptions also occur frequently in the region.
In July 1990, a powerful 7.8-magnitude earthquake struck the densely populated island of Luzon, killing at least 2,412 people and injuring thousands more. It was one of the most deadliest earthquakes in the Philippines in recent history.
Only more deadly was an enormous 8.1-magnitude earthquake in August 1976 which shook Mindanao island and had its epicenter in the Moro Gulf. It caused a destructive tsunami in the Celebes Sea, causing devastation in settlements along the coast of the Moro Gulf on Mindanao island and on the nearby Sulu Islands.
The 1976 earthquake was felt on all of the central islands of the Philippines Archipelago and in the southern part of Luzon. As a result of the earthquake and tsunami, more than 8,000 people were killed or left missing, 10,000 were injured, and 90,000 were left homeless.
Source: BNO News