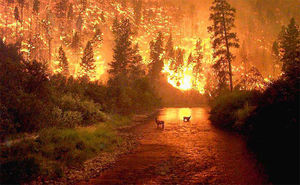 Lightning sparked three wildfires in the Bitteroot National Forest after Thursday night's storm.
A fire burning in the Sapphire Mountains is about 10 miles northeast of Corvallis. Two engines and 26 firefighters are on the scene. A U.S. Forest Service helincopter dumped water on the six-acre blaze Friday morning.
Another fire is burning near Sula Peak and Forest Road 5728. Six firefighters are working to contain the fire, which has burned less than an acre.
The smallest fire is in the Mount Jerusalem area of the Selway-Bitteroot Wilderness. It's burned about one-tenth of an acre.
The Bitteroot National Forest said the lightning-caused fires are essential to maintaining the character of the wilderness. After the fires are contained, they will be monitored over the next few days from the air.
While these fires had natural causes, about 60 percent of Montana's fires this year have been caused by people.
Firefighters have responded to 16 human-caused fires in the Lolo National Forest so far this season, and Forest Service and Montana Department of Natural Resources and Conservation officials have found more than a dozen abandoned campfires in recent weeks.
This year is not unusual. More than 50 percent of wildfires in Montana result from careless human behavior, the agencies warned Friday.
Fire danger is high in Missoula County, and the Forest Service and DNRC reminded hikers and campers that campfires should only be started in legal areas.
Where allowed, campfires should be contained and flammable materials kept away. Fires must be completely extinguished, and not left smoking. Water should be poured onto ashes and then stirred around until cool enough to touch.