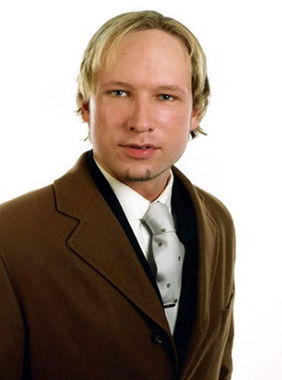 Anders Behring Breivik - who admitted killing 76 people in twin attacks in Oslo and Utøya - is a chancer. Narcissistic, full of his own self-importance and a control freak with an unhealthy interest in politics.
Janne Kristiansen, director of the Norwegian Police Security Service - Norway's M15 - told the BBC she did not believe he is insane, but calculating and evil, and someone who sought the limelight. Likewise, Peter Svaar, childhood friend and now successful TV journalist, challenged the insanity theory: "
He is cold, clever and calculating. My biggest fear now is that he's still playing us - the media and public opinion - like a piano
."
Breivik used the internet to attempt to spread his evil ideas (he wouldn't have got anywhere just a few years ago) and, naturally, the media are whooping it up. A number of individuals with equally repulsive views about immigrants and/or Islam have climbed on the bandwagon and used the internet to do likewise. Again, full of their own self-importance.
And then there are commentators like Katharine Birbalsingh who blame Breivik's father because he "abandoned" the family. But don't we all know people from broken homes, none of whom are homicidal or have conspiracy tendencies? Ms Birbalsingh's comment is misguided - though not as much as that of Glen Beck, the leading Right-wing American broadcaster, who believes those targeted were "Hitler Youth" or that of the English Defence League who strive to justify this calamity as anything but a terror attack - as far as the Utøya one is concerned - on innocent children.
Sixty eight children were murdered. Not only that but, according to the forensic examiner,
the bullets were adapted so they not only caused the worst injuries possible but also maximum pain.
Breivik is a socio/psychopath and lucky to be alive - still. According to his lawyer, "he thought he would be killed after the bombing, after the action on the island, at the hearing. He believes someone WILL kill him." So, by the time you read this column in a week's time (EWN's copy deadline is a week in advance), he may well be dead.
A British psychiatrist, who did not wish to be named, expressed his opinion in typical NHS medical jargon. "He doesn't sound mad, he sounds a bad 'un." No, Breivik's not insane. This was a crime against humanity and should be prosecuted as such.