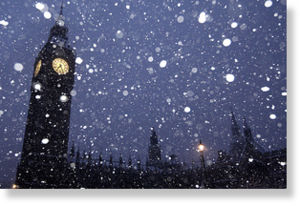 ATS Euromaster is urging motorists to pre-order cold weather tyres after a meteorologist predicted this winter will "break all records" in terms of snowfall and freezing temperatures.
Specialist long-range forecaster James Madden, of Exacta Weather, correctly predicted the harsh conditions experienced over the last two years and gave his forecast to ATS Euromaster as it prepares to fit cold weather tyres in the UK for the second year running.
He warns: "The UK is to brace itself for well below average temperatures and widespread heavy snowfall throughout winter 2011/2012 which will result in the fourth bad winter in succession, and will prove to be the worst of them all.
"I fully expect records to be broken, with the Highlands of Scotland being once again particularly hard hit. It is vital to start preparing now."
ATS Euromaster's decision to introduce a system of pre-ordering cold weather tyres follows unprecedented demand last year, when many retailers sold out within days of the first snowfall.
From 20 June 2011, motorists can reserve Michelin, Pirelli, Avon or Riken cold weather tyres at their local ATS Euromaster. Customers will pay a 25% deposit, with the balance due when the tyres are fitted in September, October or November.
Chris Hufflett, Group Operations Director at ATS Euromaster, says: "With the forecast of another bad winter on the cards we're confident our pre-ordering system will help car and van owners to guarantee supply and avoid the mad scramble to secure tyres when the wintry conditions return."
ATS Euromaster warns that whilst it has ordered additional stocks, massive demand from mainland Europe - where fitment of cold weather tyres is a legal requirement in many countries - means UK supplies may still run short.
Cold weather tyres use a higher concentration of silica to prevent the rubber hardening when the temperature drops below 7°C, together with a specially designed tread pattern which ensures they provide better grip, handling and reduced braking distances in the cold - as well as on wet, snow and ice covered roads.
Prices start from £174 for a set of four Riken 145/70 R13 cold weather tyres, including fitting, and are available from 350 ATS Euromaster centres nationwide. To locate your nearest ATS Euromaster call 0800 601060 or visit
here
.
James Madden's forecast is based on major natural factors, including solar activity, and how they impact weather and climate on Earth. His forecasting techniques have attracted significant attention after correctly forecasting seasonal trends in the UK - and following the Met Office's decision to scrap its own seasonal forecasts in March 2010, after being criticised for failing to predict extreme weather.
Madden's forecasts are shared globally via Exacta Weather, a non-profit weather organisation that comprises a team of meteorologists from around the world.