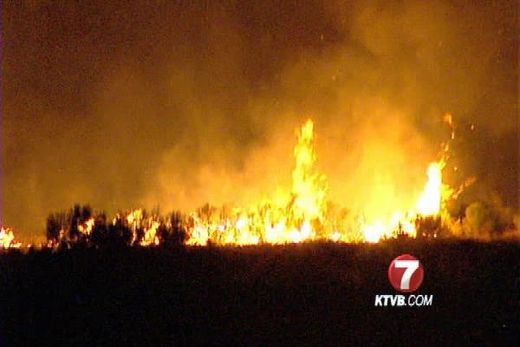 Firefighters say lightning is likely responsible for three grass fires early Saturday morning in the Boise area.
Crews responded to a fire off Highway 55 by the Shadow Valley Golf Course, a small grass fire near Broadway and Myrtle and a large fire near Gowen and Orchard.
It made for a busy morning for fire crews, which turned into a busy afternoon as crews continued to fight the fire off Highway 55.
Firefighters said it's just unfortunately that time of year when weather, heat, and fuels combine to create a demand on their resources.
"Last night was very busy when that lightning storm rolled in," said David Cooper, the Boise Fire Battalion Chief. "We had multiple grass fires going on."
Cooper said those three lightning-caused brush fires all burning at the same time overnight spread his resources thin.
"At one point last night, I believe we only had two engines in the entire city that were available for additional calls," said Cooper. "We called in some additional personnel in the middle of the night to staff additional apparatus."
More than half of Boise Fire's crews and trucks were on the fire by Gowen Road, which burned about 200 acres by the time it was controlled.
BLM continued to clean it up Saturday and made sure it didn't spark back up.
"We've had big fires in the past where, two or three days later, we'll have things spark back up again," said Cooper. "Sometimes those embers down in that sagebrush, like if you get some really thick sagebrush down in there, and then the wind kicks up again and throws some of those sparks several hundred feet out into the dry grass again."
Wind was driving the fire, but thanks to a change in the direction, crews were able to gain control. Cooper said a strong wind can turn a small burn into a blaze very quickly.
"Wind, this time of year, is usually our worst enemy, when it comes to not so many the number of fires, but the intensity of the fires," said Cooper. "The biggest events that we've had over the past few years were all wind-driven events."
Cooper said the key to fighting a wind-driven fire is to put a lot of people on it, as soon as you can, to keep it from getting real big, real quick.
While those three fires overnight were all likely caused by lightning, Cooper reminded us all to be careful when recreating in the foothills to avoid causing any wildfires ourselves.
He said there's plenty of dry brush out there right now that can be started easily by a small spark or hot undercarriage of a car.
Video | News | Weather | Sports
Sat Jul 16 13:28:15 PDT 2011
Lightning sparks off wildfires across valley