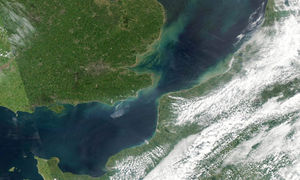 West Sussex residents report buildings shaking for few seconds in 3.9 magnitude earthquake
An earthquake with a magnitude of 3.9 has struck in the middle of the Channel. Residents in parts of West Sussex reported buildings shaking for a few seconds at around 8am on Thursday.
The British Geological Survey said the quake had a depth of 10km and its epicentre was south of Portsmouth, Hampshire. Official measurements showed it happened at 7.59am BST.
Sussex police, the Solent coastguard and West Sussex fire and rescue service said they had not been called out to any incidents related to the quake.
David Kerridge, from the British Geological Survey, said
the earthquake was the largest in the area since a magnitude 4.5 quake in 1734
.
"Historically, there have been two other significant events nearby - a magnitude 5.0 earthquake in 1878 and a magnitude 4.3 earthquake in 1750," he said.
"In the UK, we experience an earthquake of this magnitude approximately every two years."
Several residents in Worthing, West Sussex, are reported to have felt the earthquake. The British Geological Survey is running an online questionnaire to collect information from members of the public.
Source: Press Association