Do as we say, not as we do
Mark Zuckerberg, Google founders Larry Page, Sergey Brin, and a whole raft of Google's top brass have suddenly activated the privacy settings on their Google+ profiles.
Even though they want you to expose your entire life to world+dog over the interwebs, they would rather not.
The newly activated privacy settings has made it impossible to see who is following them on Google+.
Zuckerberg, who had been the most adored with 134,328 followers, is now publicly listed as having zero followers.
His place at the top has been taken by Rackspace "chief learning officer" Robert Scoble.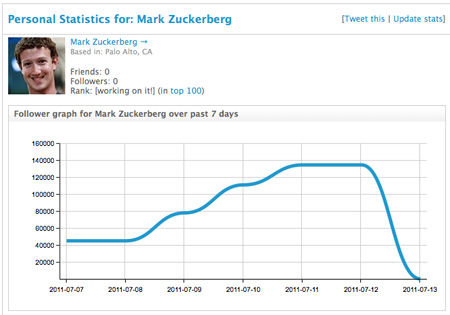 Also now with "zero" followers are Google's Page and Brin, the head of Google's web spam team Matt Cutts, Google's senior vice president for social Vic Gundotra, and vice president of location and local services Marissa Mayer. Gundotra is the man who oversees the Google+ project.
The Google+ Statistics mentioned the changes
here
, saying: "Some Google+ members have further closed off their accounts last night, which means you won't be able to track their follower and following counts. This completely reshuffled the top 100."
Google+ Statistics linked to a
The Next Web
article on the mass friend suicides
here
.
Type the name
of the execs into Google+ Statistics, and you'll see who's gone and how suddenly they departed.
Zuckerberg's move can be understood: Google+ is the mighty search company's answer to Facebook. But Page, Brin and the rest should be expected to lead by example. Alas, experience teaches us that while Google operates a business predicated entirely on knowing everything there is to know about you, it prefers that you know as little as possible about it.
Back in 2005, tech title
Cnet
claimed
it had been banned for a year from Google press events. Its crime? Running an article that pieced together details on the life of then
chief executive Eric Schmidt
using a well-known search engine. That would be Google.