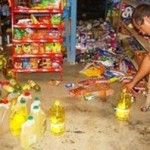 Today at approximately 2:11pm in the afternoon, Upala was rattled by a 5.3 magnitude earthquake that shook products off store shelves and rattled off home furnishings. No immediate damages were reported however later in the afternoon something strange was discovered as a result.
While reporting on the earthquake in Upala today, a local news station discovered that a district near the epicenter was missing a river. That's right...A RIVER.
Apparently in the moments following the earthquake, a community stood watch as their river disappeared in to the Earth. As of this writing it is still unknown exactly which community this occurred in however once we have the name we will update this article. The affected citizens were interviewed and expressed concern for the loss of this substantial water supply to the area. Not only will this affect humans but also the livestock raised in the area.
Additionally there was also a 4.8 earthquake registered in
Guanacaste
near Santa Rosa de Bagaces today.
OVSICORI, the nations seismic activity center, has recorded over 4789 tremors in Costa Rica exceeding 1.0 on the Richter Scale.
With all this Earth movement and record rainfall, this is creating concern for areas along the Pacific Coast from landslides.
What is on the minds of many Ticos is whether or not this spike in activity is any indication of something bigger to come. Could this be the "big one" Costa Rica has been expecting? Guess we will have to wait and see.
In the meantime it is always good advice to have emergency supplies like canned foods, flashlights, batteries and water to be safer rather than sorry.