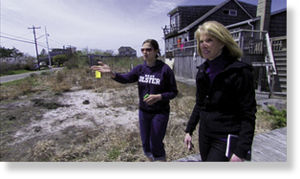 A Long Island doctor reversed his story about what happened the night Shannan Gilbert vanished, according to a one-hour
48 Hours Mystery
special about the Gilgo Beach killings, which will air tonight at 10.
Peter Hackett, long reported as one of the last people to see the missing Gilbert, had denied that he reached out to her family, as her mother alleged.
But tonight, the show reveals that he acknowledged making two calls to Gilbert's family last May, saying he only offered to help search.
Mari Gilbert offers a different account: She said that Hackett, who is not a suspect in the case, said he ran a halfway house for runaways and that her daughter was with him the day she vanished.
The special also features Police Commissioner Richard Dormer, who says they are not near an arrest but are closer to finding the killer. "We're making progress," Dormer told CBS correspondent Erin Moriarty.
Police say they suspect a serial killer is behind as many as 10 remains found around Gilgo Beach. Four were women who police believed were prostitutes and preyed upon by a killer who found them on Craigslist. Suffolk County police offer $25,000 for any tips leading to an arrest.