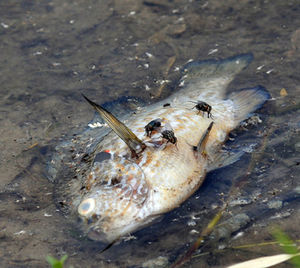 Guelph - The Township of Guelph-Eramosa immediately cordoned off the lake at Marden Park after dead fish began washing ashore Monday.
By Wednesday morning, hundreds of flies were dining on dozens of dead, blanched fish floating on their sides in the shallow shoreline. At least one dead bird was found rotting near the water.
Guelph-Eramosa chief administrative officer Janice Sheppard said a fisherman called the township Monday after he noticed the dead fish. She called the closure a precaution.
Snow fence now lines the perimeter of the lake. Signs warn people of a "public health concern" and also read "Do not use the lake for: Swimming, drinking and do not eat the fish."
However, Wellington-Dufferin-Guelph Public Health Unit program manager Scott Hutchison said "there is probably a very slim chance" that whatever killed the fish is also harmful to humans.
Hutchison said fish die of a variety illnesses and reasons that do not aversely affect humans.
"At this particular point in time, we're not speculating on a cause," Sheppard said. "It could be quite a natural occurrence, but we don't know."
Sheppard said the township sent samples of the dead fish to the University of Guelph for examination. She expects test results to be available by the end of the week.
An investigator from the health unit arrived at the lake prepared to also collect samples of the fish but instead found the fencing and signs erected.
"The township is being proactive and cautious," Hutchison said.
Hutchison said the health unit has requested copies of the test results.
"It's probably not likely an issue for people," Hutchison reiterated.
Marden Park is located next to the Royal Distributing Athletic Performance Centre west of Highway 6 on Wellington Road 30, just north of Guelph.
The lake is a popular fishing site for kids and families. It is not part of the Grand River Conservation Authority.