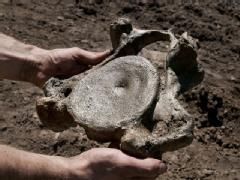 Snowmass Village -- Crews are racing against time to finish the dig at an Ice Age fossil site near Aspen.
Excavation began at the site last fall after a bulldozer operator uncovered a bone while working on an expansion of Ziegler Reservoir. Work stopped for the winter but resumed in mid-May.
Crews are finishing work this weekend before construction on the reservoir resumes next week.
During the last seven-week dig, crews found 4,517 bones from at least 20 different kinds of Ice Age animals, according to the Denver Museum of Nature and Science.
However, officials think when they examine the bones more carefully back at the museum in Denver, they may find even more species.
"I predict we have found 30 or 40 different animal species and many plant species at this incredibly well-preserved site," said Dr. Kirk Johnson, the leader of the excavation team and vice president of the Research and Collections Division at the museum. "Our work to really understand these findings and maximize the site's scientific value is just beginning."
The animal list so far includes seven large mammals:
mastodon
mammoth
bison
deer
horse
sloth
camel
Plus 13 types of smaller animals:
otter
muskrat
beaver
chipmunk
bat
rabbit
mouse
salamander
frog
lizard
snake
fish
bird
After the site is officially turned back over to the water district, a small excavation crew will remain on site.
Get the latest on the project on the Denver Museum of Nature and Science's
Snowmastodon Project website
.