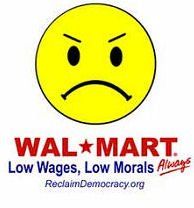 According to several aggrieved women who filed a class-action lawsuit against Wal-Mart, the giant retailer's recent employment practices were not based on merit. Instead, those women say, Sam Walton's empire employed a crude form of Marxism.
Men were often paid more than women in the same jobs, according to legal documents, and women who complained were told that the men needed more money because they were expected to support their families. Or, as Karl Marx put it, "From each according to his ability, to each according to his needs."
It would no doubt have come as a surprise to the male managers who endorsed the higher-pay-for-heads-of-households theory that they shared a basic tenet of Marxism. After all, Wal-Mart's image rests solidly on down-home, all-American values with a Southern accent -- God, guns and cheap electronics.
Indeed, Wal-Mart's culture isn't foreign. Its anti-union activities are a commonplace.
Over the years, moreover, there have been countless American companies where women employees complained about discrimination -- where they received lower wages for the same work, where they were denied promotions despite stellar work histories, where they complained of sexist antics and crude, juvenile "jokes."
Wal-Mart is not only the world's biggest retailer, but it is also the nation's largest private employer. Its sales are heavily dependent on women, who determine a major portion of most household purchases. Most of Wal-Mart's hourly employees are women, but most of its salaried managers are men.
The retailer has not been judged innocent by the U.S. Supreme Court. Last week, instead, the court rejected the class-action filing, Dukes v. Wal-Mart, that might have allowed as many as 1.5 million current and former female employees to collect financial redress. A conservative majority let the retail empire off the hook because, as Justice Antonin Scalia put it, the plaintiffs "provide no convincing proof of a company-wide discriminatory pay and promotion policy."
I cannot imagine that any American company would have an official policy that supports discrimination. Instead,
Wal-Mart appears to have allowed individual managers at various levels to get away with rank sexism.
Unfortunately, many of the women who suffered at their hands would be hard-pressed to amass the resources to file individual lawsuits, so a class action was their best hope for justice.
If you're a Wal-Mart shopper, you might want to know what some of those women have to say. (Complaints were compiled online at Wal-Mart Class Website, www.walmartclass.com.) Since lead plaintiff Betty Dukes is already well-known, let's look at others.
Ramona Scott, who worked for Wal-Mart in Florida in the 1990s, had access to payroll records and discovered that men generally made more money than women who had as much or more seniority. When she asked about it, she said, the male store manager replied: "Men are here to make a career and women aren't. Retail is for housewives who just need to earn extra money."
Christine Kwapnoski -- who worked at Sam's Club, another part of the Wal-Mart empire -- said she received outstanding evaluations and merit raises, but she still was shut out of management for years. When she was finally promoted, she said, she was told to "doll up" and "blow the cobwebs off her makeup." Lori McCarthy told The Palm Beach (Fla.) Post that she submitted 18 applications for store manager jobs and was denied each time, despite excellent evaluations. When she asked about the rejections, she was told that her voice "sounded too high," she said.
The most compelling thing about the women's testimony is that so many of them started out with a determination to make a career at Wal-Mart, believing that hard work, grit and loyalty would be enough to earn promotions and higher pay. They had bought into the idealists' view of the American workplace -- that everybody has an equal shot.
That view has hardened into a shortsighted conventional wisdom that blasts unions as corrupt and greedy and deifies business executives -- even those who run their companies aground. But the great American middle class didn't take root because corporations suddenly became altruistic.
If that middle class is to be reinvigorated, it will need, among other things, workers who are willing to stand up for their rights. So we should all be rooting for women such as Betty Dukes and Christine Kwapnoski, Ramona Scott and Lori McCarthy.
Cynthia Tucker can be reached at cynthia@ajc.com; follow her
blog
.