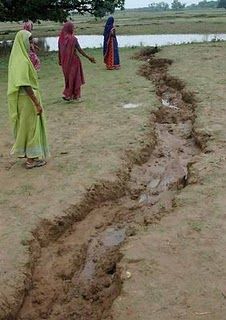 Long widespread cracks observed in several places in the Indo-Gangetic plains could be due to motion of a massive granitic body underneath, an Indian scientist in the United States has cautioned.
"It is my sincere appeal to the government of India to monitor seismic activities in the area before any major disaster takes place," Ramesh Singh, who had extensively studied the seismology in that region, said in a statement as concern mounted over cracks being formed in several districts of Uttar Pradesh.
"If the orientations of such long cracks are in the east-west direction, then the cracks could be due to stress on the surface of the earth due to motion of this massive craton (granitic body) which is exposed near Jhansi," Singh said.
Singh, who was a senior professor at the Indian Institute of Technology Kanpur (IIT-K), is now professor at George Mason University in Washington and vice chair of GeoRisk Commission of the International Union of Geodesy and Geophysics.
He said this massive body underlying the region is inclined towards northeast with depth reaching 300-500 m near Kanpur and 1,200 m in Lucknow. He said he and his colleagues at IIT-K had studied the configuration of this craton in 1990 using magnetotelluric method.
"If this granitic craton motion is changed due to some tectonic reason, one may see subsidences at large scale and since a fault is present along Kanpur-Lucknow; there could be danger of large surface deformation," Singh cautioned.
The effect of motion of this block will be reflected in widespread cracks, he said. Its slow deformation may also have led to seismic tremors which may not be noticed by human population.
About 18 months back, scientists observed a shift in the position of the Sangam (the confluence of rivers Ganges and Yamuna and mythical Saraswati near Allahabad) and thought it was due to the sediment load in the rivers or due to plate motion, Singh said.
"Now, the appearance of large widespread cracks is clear evidence of neo-tectonic activities associated with the building of stress in this region and we must monitor seismic activities along Kanpur-Lucknow and Moradabad fault lines," the professor said.
Singh said he initially suspected that the cracks might be due to subsidence as a result of excessive groundwater withdrawal. As early as in 1993, he and his student S.K. Mishra at IIT-K had predicted that cracks would develop locally when groundwater was not recharged properly or sufficiently.
He said he has ruled out this explanation "since the cracks are seen on a regional scale in many parts of Kanpur, Hamirpur, and Allahabad".
The formation of cracks on the earth continues to affect various districts of Uttar Pradesh and two villages near Lucknow are the latest to witness long fissures on the surface.
Fields in Kakori block's two villages, Dullu Khera and Vader Khera, about 10 km from Lucknow, have developed wide cracks up to 250 m long, officials said. Besides the villages in Lucknow district, six districts of Uttar Pradesh have been witnessing this phenomenon for about a week.
Concerned over the incidents, Uttar Pradesh Chief Minister Mayawati convened a meeting of experts from IIT-K, Geological Survey of India (GSI), groundwater board, irrigation department and other departments on Tuesday evening to discuss the cause of the cracks.