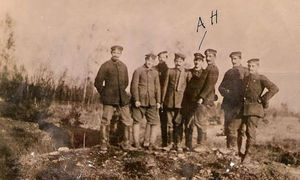 Army document is only written statement detailing Hitler's wish for systematic removal of Jews from Germany
A document understood to be the only existing written statement by Adolf Hitler in which he set out his belief in a systematic removal of Jews from society has been acquired by the Simon Wiesenthal Centre in Los Angeles.
The four-page letter, typewritten on faded brown paper and bearing Hitler's signature, was shown in public for the first time in New York, in what is likely to be seen as a key artefact in the historical record of the Holocaust. It will go on display at the centre's Tolerance Museum in Los Angeles.
The centre's founder, Rabbi Marvin Hier, said it was one of the most important documents of the period, showing the development of Hitler's antisemitic thought, and proved he had in mind a governmental solution to the so-called "Jewish Question". "This is the most important item we have in an archive of more than 50,000 objects," Hier said, adding that it would be used to educate future generations and to counter Holocaust denial.
Though Hitler alluded to his plans to exterminate Jewish people in speeches and indirectly through his closest henchmen, his thoughts on the subject can be found nowhere else committed to paper.
Such is the prevalence of fraud in Hitler memorabilia that some experts remain to be convinced of the document's authenticity. But the Wiesenthal Centre said it had authenticated the letter.
Long known by historians of the Third Reich as "the Gemlich letter",
the original signed copy has never before been seen in public. An unsigned copy exists in the state archives in Munich.
Hitler wrote the letter in Munich on 16 September 1919. Then aged 30, he was as yet unknown but was starting to show interest in politics. Shortly before writing the letter he attended a meeting of the German Workers' party, which later he took over and converted into the National Socialist German Workers' party.
At the time he was in a propaganda unit of the German army that tried to counter Bolshevik influences among soldiers returning from the Russian front at the end of the first world war. His commanding officer, Captain Karl Mayr, told Hitler to respond to an inquiry from one Adolf Gemlich, who wanted to know the army's position on the "Jewish Question".
In his reply, Hitler spouted an antisemitic diatribe, in which he said Jews were "pure materialists in thought and aspirations" and that their effect was "racial tuberculosis on the nation".
Crucially, he went on to set out his vision for a calculated antisemitism that would operate through strong governments rather than the emotion of the people. Emotional antisemitism, he wrote, merely ended in pogroms.
"The antisemitism of reason must lead to a struggle for the legal battle to abrogate laws giving [Jews] favoured positions, differentiating the Jew from other foreigners. The final goal must be the uncompromising removal of Jews altogether. To accomplish these goals, only a government of national power is capable, and never a government of national weakness."
The signed letter was bought by the centre for $150,000 from a trader in historical artefacts. It was said to have been obtained by an American soldier in 1945 from a Nazi archive near Nuremberg and was held privately until now.
The centre had a chance to buy it in 1988 but was doubtful about its provenance, particularly the fact that it was composed on a typewriter - a rare and expensive object Hitler could personally not have afforded in 1919. Hier said their doubts had been assuaged when they realised that Hitler was working for the army and would have had access to its typewriters.