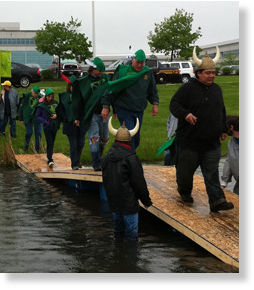 Hundreds of protesters greeted JP Morgan Chase bank shareholders at their annual meeting in Columbus, Ohio, on Tuesday to tell the big bank that it's time for Wall Street pay up for its part in the financial and foreclosure crisis that has cost residents in Ohio cities $1.6 billion in property values since 2009.
The protest was held as regulators and state attorneys generals continue to investigate the lending practices of big banks like Chase, Wells Fargo and Bank of America that are suspected of committing foreclosure fraud during the economic and housing crisis.
Organizers say 800 clergy, homeowners and union members from across Ohio and the Midwest gathered to protest the Chase shareholders meeting at corporate park outside Columbus. Heather McMahon, an organizer with the Mahoning Valley Organizing Collaborative, said 15 people entered the Chase building and held the floor during the shareholders meeting for 20 minutes despite a heavy police presence.
A group of about 40 protesters, some of them wearing Robin Hood and Viking garb, built a bridge to cross a "moat" outside the building and attempted to get inside before being turned back by police. McMahon said one protester was arrested.
"This is an issue for all middle class families, and we have to stand together to protect our interests," McMahon told Truthout.
McMahon said one organizer talked to Chase CEO James Dimon, who apologized for any "paperwork errors" that led to wrongful foreclosures.
Big banks like Chase are suspected of committing more than a few paperwork errors. Since last fall, state attorneys general have been investigating faulty mortgage and lending practices that have forced millions of homeowners into foreclosure. Big banks are suspected of exacerbating the foreclosure crisis by approving foreclosure documents without checking for accuracy and using third-party "robo-signing" firms to cut corners and speed up foreclosures.
Last week, a coalition of state attorneys general met with five of the nation's largest banks to negotiate terms of a settlement. Some federal agencies and attorneys general pushed the banks to reduce the balance on homeowners' loans and pay $20 billion in penalties that would benefit struggling Americans, but the banks resisted the settlement and floated a proposal to pay only $5 billion.
Liz Ryan Murray, a policy analyst with
National Peoples Action
(NPA), one of the groups that organized the Ohio protest, said a settlement demanding anything under $60 billion from the banks would not go far enough to bring relief to working Americans.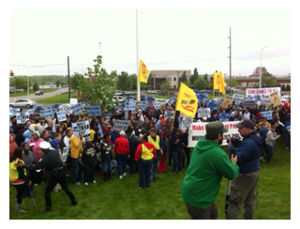 Urban Ohio families have been hit hard by foreclosures. Nearly 10 percent of residential properties in Ohio's largest three cities - Cincinnati, Columbus and Cleveland - have received a foreclosure notice since the housing crisis began, according to an NPA report. At least one out of 17 homes in these cities has been lost to foreclosure, and more than 20,000 homes are now the property of banks. Bank of America, Chase, US Bank, CitiBank and Wells Fargo filed a majority of the foreclosures in Ohio.
On average, the number of foreclosure filings are nearly three times more concentrated in Ohio's African-American communities than areas where the majority of residents are white, according to the report.
The state attorneys general and the big banks have not reached an agreement on a settlement, and some reports indicate the negotiations could be falling apart due to disagreements between pro-banking and pro-consumer attorneys general. About a dozen attorneys general have started their own investigations or filed lawsuits against firms in their home states.
Ohio Attorney General Mike Dewine filed a lawsuit against a Cleveland area loan modification firm last week for failing to keep promises made to consumers. McMahon said her organization will be meeting with Dewine soon, and activists in other states are also pressing their attorneys general to hold lenders accountable.