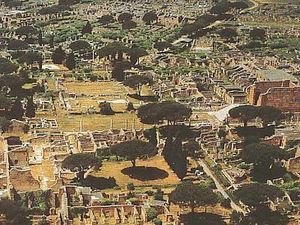 Builders have unearthed the remains of a 2,000 year-old wooden ship dating from the Roman Empire, near the Italian capital Rome's ancient port of Ostia. The ship's discovery, made during work at the site of a new road, was hailed as an important one by archaeologists.
"It shows that the coastline during during ancient Roman times was some 3-4 kilometres farther inland than it is now," said Ostia archaeology official Anna Maria Moretti .
The wooden ship was about 11 metres long, making it one of the largest ancient vessels excavated near Ostia Antica, a port city founded some 2,500 years ago and Rome's first colony.
So far, one side of the ship is visible, but its bow and stern are missing.
"The restoration work is very delicate as we have to continually cover the boat with water to prevent the wood drying out, " said Moretti.
"It needs to be handled using very sophisticated techniques."
The remains of the ship were found 4 metres below ground during repairs of a bridge linking the modern-day coastal town of Ostia to the fishing port of Fiumicino, where Rome's main airport is located.
Italy's culture minister Giancarlo Galan described the discovery as "spine-tingling".
Work on the new bridge will be suspended during the excavation of the ship, Galan said.