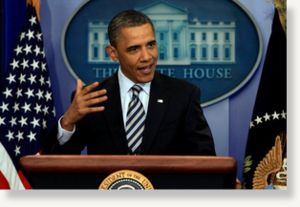 The decision by President Obama to release his "long-form" birth certificate on Wednesday injected the president directly into the simmering "
"birther"
controversy in the hope of finally ending it, as aides said, or perhaps even turning it to his advantage.
The gamble produced dramatic television, as Mr. Obama strode in to the White House briefing room to address, head on, a subject that had been deemed irrelevant by everyone in his orbit for years but had nonetheless figured in conservative efforts to undermine his legitimacy.
Mr. Obama's comments risked elevating the discredited questions about his birth. But they also allowed him to cast his political opponents as focused on the trivial at a time when the nation is facing more important issues.
The fact that much of the recent focus on where Mr. Obama was born has come from Donald Trump, who says he is considering a run for the Republican presidential nomination and who spent the day campaigning in New Hampshire, allowed the White House to use Mr. Trump as a foil, and present the president as a more serious leader than his potential rivals in the 2012 campaign.
"We're not going to be able to solve our problems if we get distracted by sideshows and carnival barkers," Mr. Obama said, a clear reference - though not by name - to Mr. Trump.
False accusations about Mr. Obama being born abroad - and the implication that his election was therefore invalid - have percolated on the Internet and among conspiracy theorists since the early days of his presidential campaign, when aides distributed a shorter version of the birth certificate, the version that officials in Hawaii normally give out.
But White House officials concluded about a month ago that the falsehoods had moved from "the nether regions of the Internet" into the mainstream political arena, in large part because of Mr. Trump, the real estate developer and reality TV host who has used the matter as a media magnet.
In remarks to reporters on Wednesday, Mr. Obama noted that such "silliness" had dominated news coverage during the week when the Republicans released their 2012 budget proposal and Mr. Obama gave a speech on the nation's debt.
"This is going to generate huge and serious debates, important debates," Mr. Obama said of those issues. But he added: "We are not going to be able to do it if we are distracted. We are not going to be able to do it if we spend time vilifying each other. We are not going to be able to do it if we just make stuff up and pretend that facts are not facts."
Aides turned back suggestions that Mr. Obama's appearance at the press briefing was intended to draw attention to Mr. Trump's allegations, and thereby accentuate the contrast between the president and his likely Republican challengers.
White House officials said it would have been more politically savvy to let Republicans go on questioning his birth certificate, since doing so was likely to appeal only to conservatives whose votes Mr. Obama is not likely to win in 2012 anyway.
"It would have been in his - probably in his long-term political interests to allow this birther debate to dominate discussion in the Republican Party for months to come," said Dan Pfeiffer, the White House communications director. "But he thought, even though it might have been good politics, he thought it was bad for the country."
The long-form birth certificate, which is posted on the White House Web site, shows that Mr. Obama was born in Honolulu; it is signed by state officials and his mother. It differs from the commonly issued short form by including the name of the hospital and the signature of the attending physician.
The state of Hawaii does not normally release copies of the long-form certificates, but it did so in this case in response to a specific request from Mr. Obama. Aides also released copies of the letters that the president wrote to Hawaiian officials.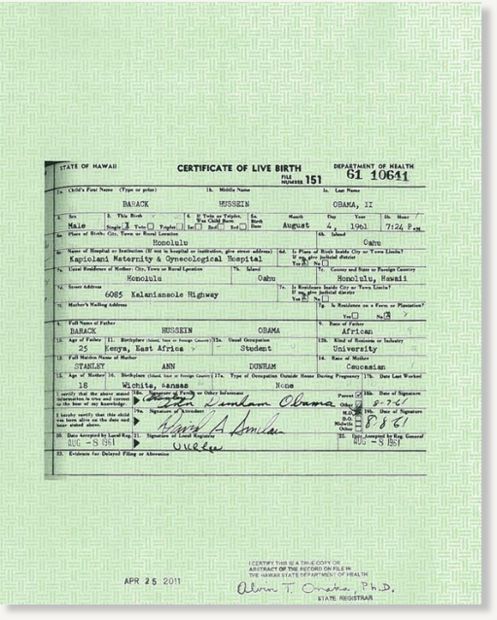 In his news conference Wednesday morning, Mr. Trump claimed credit for forcing Mr. Obama's hand, saying that "I feel I've accomplished something really, really important." But he said that the document would have to be examined for authenticity.
"I hope it's the right deal," he said. "We have to look at it. A lot of people have to look at it. I hope it's true, and the reason I hope it's true is because we have real problems in this country."
He was still holding forth in New Hampshire when Mr. Obama began his comments in Washington with a joke about the networks' willingness to break into their normal programming to carry Mr. Trump but not for serious policy issues.
As long ago as July 2009, Robert Gibbs, the White House press secretary at the time, dismissed the "made-up fictional nonsense of whether or not the president was born in this country," but polls showed that sizable minorities of people continued to say they were not confident that Mr. Obama was, in fact, born in the United States.
Many of the doubters suggested that the reason Mr. Obama had not produced a long-form birth certificate was that none existed. The president's decision to obtain a copy from Hawaii and release it to the media was an effort to put such claims to rest.