Chicago - Not only has Chicago dealt with chilly rain, hail and even snow this week, but temperatures Tuesday were at their lowest for this late spring date since the 1940s.
CBS 2 Meteorologist Megan Glaros says the high Wednesday is expected only to reach 46 degrees with a peek or two of sunshine, but the chilly conditions will make it feel like winter never ended. As of 6:45 a.m., the temperature in Chicago was just 34 degrees.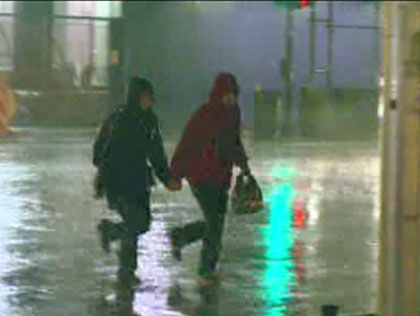 Glaros says if there were precipitation Tuesday morning, some snow would likely be mixed in. Fortunately, the storm systems have moved east and conditions were just cold and overcast.
On Tuesday, the high topped out at 38 degrees in the city. In the early evening hours, just walking a few blocks along the streets of Chicago felt like going out to sea in an open boat during a rainstorm in northern Canada. Anyone walking against the wind was blasted continuously in the face with cold droplets of rain, and given the strength of the winds, an umbrella was as good as useless.
And that was before the severe storms even hit. Lightning bolts and thunder claps soon appeared, and hail of up to 1 inch in diameter was spotted in some areas, according to the National Weather Service.
More than an inch and a half of rain fell in less than half an hour Tuesday evening, forcing the cancellation of more than 450 flights at O'Hare and Midway international airports, and leaving people sleeping on terminal floors.
A flood watch remains in effect for the Fox River in Lake County and Kenosha County, Wis., while a flood advisory is in effect for the Fox River in Kane and Kendall counties.
The weather Tuesday continued a miserable trend that has been going on all week. On Monday morning, O'Hare saw an accumulation of 0.6 inches of snow, enough to set a record for this date. It swept out an earlier record of 0.4 inches, set in 1910.
The snow is over for now, but Glaros says frost may be seen Wednesday night, and temperatures will not return to the normal range until Sunday.