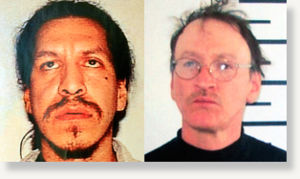 Two men arrested in Canada have been charged with killing two women in New Hampshire 22 years ago.
Authorities in New Hampshire say 43-year-old Anthony Barnaby and 49-year-old David Caplin were arrested Monday.
They are accused of killing Charlene Ranstrom and Brenda Warner, who died in their home in Nashua, N.H., in October 1988.
Barnaby was prosecuted three times in connection with the killings, but the three trials ended in mistrials, the last in 1990.
It was not immediately known where in Canada the suspects were arrested.
Both suspects are from Canada; Barnaby is from Restigouche, Que.
Prosecutors at Barnaby's trials argued that he killed the women because he disliked their lesbian lifestyle.
Murder charges against the other man arrested, Caplin, were dropped 20 years ago. Court rulings said some statements he made could not be used against him.
Officials in the United States plan to release more details about the case at a new conference this afternoon.