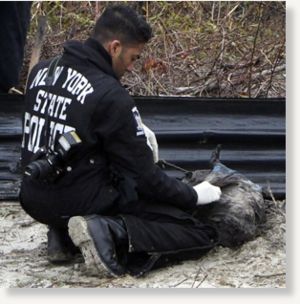 Cops scouring a Long Island beach-turned-graveyard found another set of grisly remains yesterday -- a human skull and torso that were at least a mile apart and might belong to the same body.
"It could be number nine, or it could be number 10, we don't know yet," a source told The Post, in regard to the increasing body count, which could be the work of a serial killer.
A State Police officer with a cadaver dog found the torso at 11:30 a.m. in Nassau County, five to six miles west of where eight other decomposed bodies have been found in Suffolk County since December, said State Police Capt. James Dewar.
Four hours later, a Nassau cop found bones in the JFK Bird and Wildlife Sanctuary at least a mile east of the torso.
"It appears to be a skull," Nassau Detective Lt. Kevin Smith said of the second find. "It's all been very startling. We have a lot of work to do."
The bones were taken to the Nassau County Medical Examiner's Office.
The latest grim discoveries came as roughly 125 Nassau and state cops teamed up to widen the search for missing New Jersey call girl Shannan Gilbert, 24, last seen screaming for help as she ran from the gated community at Oak Beach after meeting a john for sex.
Officials said last night the search of Nassau beaches has been completed.
Four bodies found in December right after the Suffolk search began were identified as Craigslist "escorts," who cops believe were strangled by a serial killer after turning tricks.
The four found in the past two weeks have not been identified -- although a source said one was a young child and possibly an infant, as first reported in The Post.
Gilbert's aunt said yesterday the family hopes the new remains aren't hers -- and holds out hope she's still alive.
"We're continuously on the edge of our seats, hoping none of the remains are my beloved niece," said Lori Grove. "We're trying to keep optimistic but realistic at the same."
Lynn Barthelemy, mother of victim Melissa Barthelemy, said yesterday her younger daughter, Amanda, is "very scared" that the sicko who killed her sister -- and later made threatening phone calls to Amanda -- might now come after her.
"We just don't understand why he chose us to call. That's the really scary part. My daughter is the only one who's actually spoken to him," she said yesterday. "We're being extra careful, because you never know."
"They were very taunting and angry words," Amanda told
Good Morning America
yesterday. "[It was] very scary. My heart would stop and I just didn't know what to do. I have to be worried . . . Is that going to happen to me one day?"
Nassau County Executive Edward Mangano pledged an intense investigation "to hunt this animal down and bring him to justice."