The family of Crossbow Cannibal Stephen Griffiths' first victim will never have closure after hearing her body is lost forever.
Prostitute Susan Rushworth, 43, was beaten to death with a hammer in Griffiths' flat before he butchered her body, ate her flesh, and dumped the remains in the River Aire, an inquest heard.
Her tearful family said they will never be at peace because Susans remains cannot be found.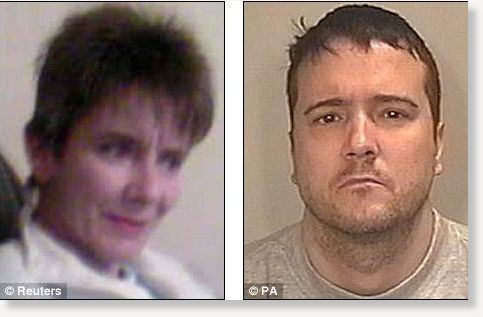 Serial killer Griffiths, 41, is serving life after admitting murdering Susan and two other sex workers - Suzanne Blamires, 36, and Shelley Armitage, 31 - in his flat in Bradford, West Yorks.
DCI Mark Ridley, of West Yorkshire Police, told the inquest the remains of Griffiths' other victims had been located in the River Aire.
He said: 'Stephen Griffiths admitted to striking Susan Rushworth about the head with a hammer, dismembered her body and disposed of it, but he's not said where.'
Susan's blood was found splattered around his flat and traces remained on his boots 11 months after he killed her.
Susan's daughter Kirsty, who reported her mother missing on 25 June 2009, wiped away tears and comforted her grandmother, Christine Thompson, who was shaking through stress, as they heard the harrowing evidence in the coroner's court.
DCI Ridley went on: 'I think, given the length of time, that Susans body will never be found.'
Coroner Roger Whittaker formally recorded that Susan Rushworth had died from head injuries and she was unlawfully killed.
He said he would now be able to give her family the death certificate it has wanted for so long.
Mr Whittaker added: 'May I inadequately offer you my continued sympathy. I have no idea how you are going to cope with these circumstances of this serious anguish.'
After the hearing the family said, in a prepared statement: 'Susan was a much loved daughter, sister, mother, grandma and aunty. This is a particularly hard time at the moment as another Mothers Day approaches where Susan is not with us.
'We have very fond memories of Susan and hold her dear in our hearts.
'Although the inquest is the final part of the judicial process we, as a family, will never have closure until Susan's remains are laid to rest with
her dad Barry.'