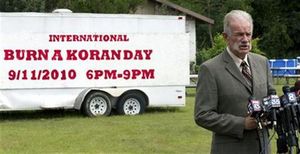 Miami - An American Christian preacher who caused an international uproar last year by threatening to burn the Koran has put himself back in the spotlight after incinerating Islam's holy book -- again with deadly consequences.
Thousands of protesters in northern Afghanistan, enraged over news that the Florida pastor Terry Jones had overseen a torching of the Koran, stormed a United Nations compound on Friday, killing at least seven U.N. staff.
Jones, a 58-year-old fundamentalist pastor and the head of a small fringe church in Gainesville, Florida, drew worldwide condemnation in September over his plans to burn the Koran on the anniversary of the September 11, 2001, attacks.
Several people were killed in protests then in Afghanistan and elsewhere in the Muslim world.
Jones eventually canceled that event under intense pressure from the U.S. government, the Pope, and other global leaders.
But he has remained an outspoken critic of Islam, and says parts of the Koran can lead to violence and terrorism.
On March 20, he presided over what he called an "International Judge the Koran Day" in which he supervised the burning of the book in front of some 50 people.
Video posted on the website of his Dove World Outreach Center church showed a kerosene-soaked book going up in bright flames in a metal fire pit similar to those often found in backyards and patios, but located inside the church.
"We believe parts of the Koran, if taken literally, do lead to violence and terrorist activities, do promote racism or prejudice against minorities, against Christians, against women," he said shortly after the Koran burning.

Comment: How about substituting the word 'Bible' for 'Koran'?


"The terrorist jihad people use the Koran," he said.
Some Muslim leaders, including Pakistani President Asif Ali Zardari and Afghan President Hamid Karzai, have denounced the burning and video.
Gainesville Mayor Craig Lowe condemned the Koran burning and the Afghan violence it had caused.
"It's important that the world and nation know that this particular individual and these actions are not representative of our community," Lowe said in a statement, quoted by the Gainesville Sun newspaper.
Few Followers
Jones is a former hotel manager whose non-denominational church only has a few dozen members.
The church website offers for sale a book written by the pastor entitled "Islam is of the Devil", and also T-shirts, baseball caps and mugs emblazoned with the same sentence.
"Our United States government and our President must take a close, realistic look at the radical element Islam. Islam is not a religion of peace. It is time that we call these people to accountability," he said on Friday in a statement reacting to the events in Afghanistan.
But he told the BBC he in no way felt responsible for the killings of the U.N. employees there.
Those who know Jones say he demands strict obedience and unpaid labor from his tiny flock and sells used furniture out of his Gainesville sanctuary.
He was once ejected from a church in Germany by his own followers. His daughter said last year she believed he had lost his mind in his fanatical crusade against Islam.
Over the years, Jones has demonized homosexuals and increasingly targeted Islam, preaching that Muslims were trying to take over the United States and impose Sharia law.
Children in his Florida congregation were sent to school wearing T-shirts that proclaimed "Islam is of the Devil," until school officials banned the shirts.
Jones has said he is planning an April 22 protest outside an Islamic center in Dearborn, Michigan, home to a large Muslim population.
"Dearborn is sort of the Mecca of America," he said.