International boffins are meeting in Blighty today with the aim of setting up a European solar radiation-storm warning service. With the Sun expected to belch forth increasing amounts of bad "space weather" in coming years, the scientists warn that billions of pounds' worth of damage could be done to satellites in orbit.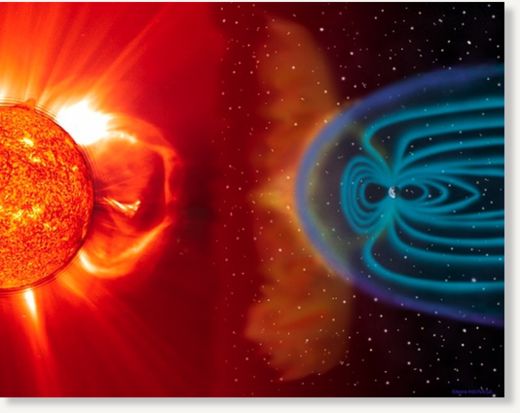 The new warning setup is to be called SPACECAST.
"Space weather is a serious natural hazard and better forecasting is a priority for Europe," says Professor Richard Horne of the British Antarctic Survey (BAS), leading on the project for the UK.
"This is especially important as we approach maximum levels of solar activity and increased numbers of magnetic storms. SPACECAST will provide forecasts of disruptive space weather events and issue warnings and alerts for periods of high risk."
According to Horne and his colleagues, the solar sunspot cycle is to peak over the next few years: however, the actual storms which affect electronic equipment in the vicinity of Earth don't quite match this cycle and the storm peak is expected to lag about two years behind the sunspot maximum.
The years 2013 to 2015 are expected to be especially stormy in space - with perhaps as many as 60 events per year that could cause serious problems.
Comment:
Let us suggest, that it might happen much earlier than 2013, and not particularly due to sunspot maximum, though, undoubtedly,
sun has its role
to play, too. It is also
highly unlikely
that world leaders at the highest level are not aware of the upcoming calamities, but keep the rest of the population in the dark, or feed them with carefully crafted lies, supported by the scientific establishment.
The European Union is especially keen to get a rad-storm service up and running as its new Galileo nav-sat constellation is set to come into service (at initial levels of capability) just as the storm cycle peaks. SPACECAST, which has EU funding of €2.5m so far, is to be up and running from 2012.
The risk to satellites has already been proven, with a particularly violent 2003 storm affecting some 47 spacecraft - and totally writing off one which had cost a cool $640m. Modern assessments of the famous Carrington super-storm of 1859 have suggested that another such monster would cause as much as $30bn of satellite damage should it strike today's civilisation rather than the electronically primitive one of the mid-19th century.
NASA, which has itself warned in recent times of the hazard of a devastating "space Katrina", is involved with SPACECAST. Boffins from Finland, France, Belgium and Spain will also join the BAS on the project.