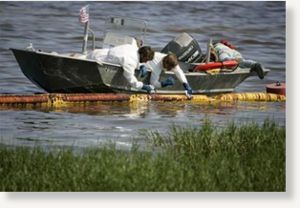 BP Plc and other companies who had used chemical dispersants to fight the 2010 Gulf of Mexico oil spill should compensate the cleanup crew and residents harmed by those toxic chemicals, lawyers suing the firms said in a court filing.
To date, BP and its contractors have used more than 1.8 million gallons of Nalco Holding's chemical dispersants in the Gulf of Mexico in connection with the oil spill, according to the complaint. Nalco was also named in the complaint.
Lawyers said many plaintiffs, who were assisting in the effort to prevent oil slicks from reaching the shore, or cleaning oil spill residue from the beaches, came into contact with crude oil, chemical dispersants and other toxic chemical mixtures.
The complaint has sought unspecified compensatory damages from BP and the other companies involved in the clean up act. The lawsuit has also sought damages for medical screening and monitoring.
BP in London declined comment.
Reporting by Sakthi Prasad in Bangalore; Editing by Hans Peters