Tens of thousands more elderly people are being forced to pay for their care compared with this time last year, a report has found.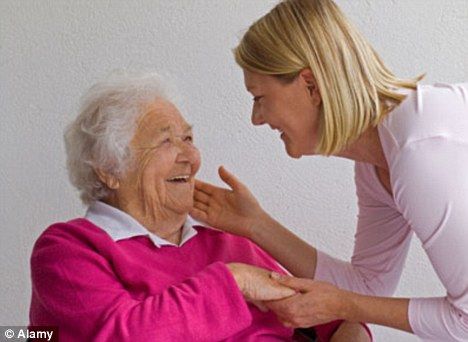 The number being denied a council-funded place in a care home or help from a carer in their own house has risen by 80,000 in the last 12 months amid public spending cuts.
The report revealed that 1.7million elderly people received some form of free care in 2010/09, down from 1.78 million in 2009/08 - a drop of five per cent.
The fall will prompt fears that cash-strapped councils are becoming increasingly reluctant to provide free care for the elderly, many of whom have dementia or have suffered strokes and need round-the-clock help.
The report, by the Care Quality Commission watchdog, also revealed that the number of hospital beds on geriatric wards has fallen by more than 15 per cent in the last five years.
There are now just under 21,000 geriatric beds across all NHS trusts in England and Wales - down from 24,700 in 2005/06 - despite the fact that the elderly population is increasing.
Recent reports have already highlighted how the needs of the elderly are being increasingly sidelined by the NHS and local authorities.
The Health Service Ombudsman recently revealed how elderly patients are being left without food or water on wards and forced to lie in soiled clothing. And last month a separate study by private health care company Bupa predicted that 80,000 care home beds will be lost over the next ten years due to council spending cuts.
The latest report from the CQC said that the standard of health and social care was 'far from perfect'.
Dame Jo Williams, the watchdog's chairman, said: 'There have been significant improvements in outcomes for people who use services.
'However, the overall picture is far from perfect and it will be vital for all parts of the health and social care system to continue this upward trend and consolidate the best of what has worked well.
'The next few years will be a crucial time for health and social care in England.'
Health Secretary Andrew Lansley said: 'Our ambition is to deliver services for NHS patients which are among the very best in the world.
'That means lifting NHS and social care services far above minimum standards. We are working with the CQC to ensure their activities support our vision for the NHS by focusing on the things that really matter to patients - safety, choice, results and a positive patient experience.'
Earlier this week it emerged that middle-class pensioners who have saved all their lives are being forced to effectively subsidise free care home places awarded by councils.
In England, those who have savings or assets worth more than £23,250 must pay their own care home costs. In some cases they are paying £10,000 more than the rate paid by the council for the exact same rooms for the poorer residents. Some are forced to sell their homes in order to afford the fees.
Care homes have admitted that privately funded residents were being billed hundreds of pounds a month more than the rates paid by elderly people funded by a local council for the same facilities.