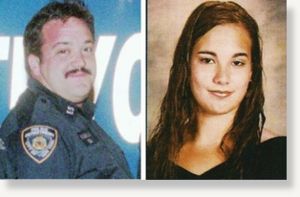 The outraged family of a local murder victim is taking on Facebook.
It was a paramedic who took the crime scene photos, and posted them on the site, but is Facebook, itself, to blame?
It's a case of what the family is calling "disrespecting the dead," reports CBS 2's John Slattery.
Martha and Ronald Wimmer think that the photographing and posting of their daughter's brutalized body is just more than they can stand.
"This is on the second anniversary of our daughter's death. I just want to get by, day by day," Martha Wimmer said.
Her daughter, 26-year-old
Caroline Wimmer, was strangled with an electric cord
. The convicted killer, Calvin Lawson, got 25 to life. One of the first on the scene, former emergency medical technician Mark Musarella, used his cell phone camera to snap a grisly photo of the corpse, which he then uploaded to Facebook. He pleaded guilty to official misconduct and lost his job.
A civil suit now names Musarella and Facebook.
"I found my daughter. I seen what she looked like. She was horrible. And I know that people at night are looking at it," Ronald Wimmer said.
Because Facebook is a not-for-profit community bulletin board, it's protected by a 1996 law, The Communications Decency Act, that gives Facebook immunity. The Wimmers' attorney said what Facebook did was wrong.
"Just like a jewelry store cannot resell stolen property, neither can Facebook," attorney Ravi Batra said.
The victim's older sister was equally upset.
"Of the pictures on Facebook ... for anyone to see, it kills me," Christina Criscitiello said.
A bill will be introduced in Albany later this week, attempting to reign in the broad immunity Facebook currently enjoys.
A spokesperson from Facebook said, "We haven't been served or seen the complaint so we have no comment at this time."