Arab League and China express regret as Moscow suggests US-led coalition is going beyond its mandate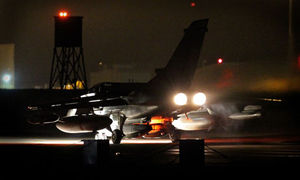 Arab support for the US-led war in Libya showed signs of fraying today in reaction to the sheer destructive power of the initial attack, claims of civilian deaths and a warning by Muammar Gaddafi to prepare for "a long war".
The secretary-general of the Arab League, Amr Moussa, appeared to wobble just over a week after his organization, which represents 23 Arab states, voted in favour of a no-fly zone. Pictures of charred bodies led to not only the Arab League but also Russia and China expressing regret over the violence. Moscow claimed the US-led coalition was going beyond its UN mandate to protect civilians and called for an end to the "indiscriminate use of force".
As anti-aircraft fire was heard across Tripoli, and a second wave of attacks was launched targeting ground forces and air defenses, suggesting a second night of bombardment, the US claimed it had control of the skies over Libya and had stopped Gaddafi's advance against rebel positions. The start of the mission, labelled Operation Odyssey Dawn, included firing more than 100 Tomahawk missiles at Gaddafi's air defenses. Defense sources said the next phase would be to cut supply lines to Gaddafi's front-line troops and was expected to involve British Tornado ground attack jets.
A short time later Libya announced another ceasefire, which was issued in the name of the Libyan government and armed forces, rather than Gaddafi.
A government spokesman in Tripoli said: "We, the Popular Social Leadership of Libya, recommend to the armed forces to announce an immediate ceasefire to all military units."
The announcement was followed by an order from the armed forces that the ceasefire would be effective from 9pm local time.
Downing Street said Gaddafi remained in breach of his obligations under last week's United Nations resolution, which the coalition would continue to enforce. "Everyone will recall that in recent days Colonel Gaddafi declared a ceasefire which was promptly violated," said a spokesman for Number 10. "We said then we would judge him on his actions not his words - and we will do so again."
Gaddafi, seeking to win Arab popular support, portrayed the military action as an attack by crusading colonialists and signalled that the west should prepare for a protracted conflict. Defiant from the moment the attacks began on Saturday night, he said Libyans had the patience to wage a "long war".
"We will fight if you continue your attacks on us," he vowed in an ominous radio address. He added that he would throw open the country's arsenals, arming the civilian population with a million weapons to conduct this war.
Libyan TV claimed 64 people had been killed in the attacks, and more than 100 had been injured, including civilians.
The British defense secretary, Liam Fox, said it was possible that allied forces would treat Gaddafi himself as a legitimate target for air strikes. He said: "There is a difference between someone being a legitimate target and whether we go ahead and target him.
You would have to take into account what would happen to civilians in the area, what might happen in terms of collateral damage. We don't simply with a gung-ho attitude start firing off missiles."
But the US, reflecting confusion over war aims, rejected the idea that Gaddafi is a target. "We are not going after Gaddafi," US vice-admiral Bill Gortney told a press conference.
Hundreds of Libyan civilians had streamed into Gaddafi's Bab al-Aziziya headquarters in central Tripoli before the attacks began on Saturday, as well as to airports across the country, possibly to guard against just such an eventuality. With the fight for world public opinion as critical as events on the ground, the top US commander, Admiral Mike Mullen, gave a series of television interviews in which he said he had heard no reports of civilian deaths. "We've worked very hard to absolutely minimize and eliminate civilian casualties," he said.
But Moussa, in comments carried by an Egyptian news agency, was quoted as saying: "What is happening in Libya differs from the aim of imposing a no-fly zone. What we want is the protection of civilians and not a bombardment of more civilians." A UK government source claimed his comments had suffered from mistranslation.
An about-turn by Moussa would seriously undermine the US-led effort. The Obama administration is anxious to avoid being seen in the Muslim world as embarking on a third war against a Muslim country within a decade. The US cited the Arab League vote in favor of a no-fly zone as tilting the balance in Washington in favor of military action.
The Foreign Office stressed that the coalition, unlike Gaddafi, was not attacking civilians. "The UN resolution authorities all necessary measures to protect the Libyan people. For the no-fly to be enforced safely, it is necessary to carry out carefully targeted operations against Libyan air defense capabilities. All missions are meticulously planned to ensure every care is taken to avoid civilian casualties."
In spite of promises by several Arab countries to provide military support to the coalition, only Qatar and the United Arab Emirates have responded so far. A French defence ministry spokesman, Laurent Teisseire, said Qatar planes would be flying alongside French jets "in the hours to come". An Italian source told the Guardian that jets from the UAE may be hosted at Decimomannu base on Sardinia.
"I think it is very important for opinion in the Arab world to show that this is not simply the west acting," said Fox.
British and US commanders are hoping that leadership of the operations will soon come under the auspices of Nato, whose members met in Brusselson Sunday.
Last night Turkey blocked Nato from reaching agreement to take over responsibility for the no-fly zone, and diplomats said it would be Tuesday at the earliest before this could be achieved.
"Some very complex and critical decisions about the mission are being worked out now," said a spokesman. "I think a consensus can be reached."
The Pentagon has been reluctant to become involved in another war and Mullen, reflecting this hesitation, insisted Sunday that it was only a limited operation and that the US would hand over leadership within days to Britain and France.
Asked who was in charge, he said: "[We are] leading it now. We're looking to hand off that leadership in the next few days."
The US would then take a back seat, he said, engaged in jamming Gaddafi's communications and helping with air-to-air refueling.
He admitted that he could not be sure of the eventual outcome or how long the conflict might last.
Mullen insisted that the goals of the mission were limited to protection of civilians and not the removal of Gaddafi.
"It is not about seeing him go," he said, admitting that the mission could be accomplished and Gaddafi still remain in power.
The Pentagon line contrasts with the more hawkish line in Britain, where David Cameron has insisted Gaddafi needs to go.
The military buildup around the Mediterranean is continuing with the French saying its aircraft carrier Charles de Gaulle had left the port of Toulon and was en route to the Libyan coast. A number of RAF Typhoons had landed at Gioia del Colle in southern Italy. Aircraft from Spain, Denmark and Canada were also in the region. However, defence officials denied that there was any likelihood of ground troops becoming involved; there has been some speculation that the elastic nature of the UN resolution could lead to troops being sent to Libya for humanitarian operations, not as an occupying military force. "That just isn't part of our thinking," said a Whitehall source.