Recent advances in geological study have uncovered an array of deep-seated regional faults, long thought to be dormant, that have shown surface movement throughout southeast Louisiana. And in the wake of Japan's nuclear crisis, some local geologists and environmental activists are warning that the levees along the Waterford 3 nuclear plant in St. Charles Parish should be evaluated for potential fault hazards.
"It's not that you would have an earthquake at the time of a flood, but it creates a natural hazard that you should either avoid or take special precautions in your design for, and I think the troublesome thing is that Taft when it was built, that wasn't a concentrated risk," said Woody Gagliano, a geologist with Coastal Environments Inc., a Baton Rouge environmental consulting firm, who has studied the effects of geological faults on levee failures.
Three months after Hurricane Katrina roared through New Orleans in 2005, Gagliano testified before the Senate Environmental and Public Works Committee that geological faults were known to underlie the levees at "many, if not most" of the breaches that occurred in hurricane levees and floodwalls in southeast Louisiana.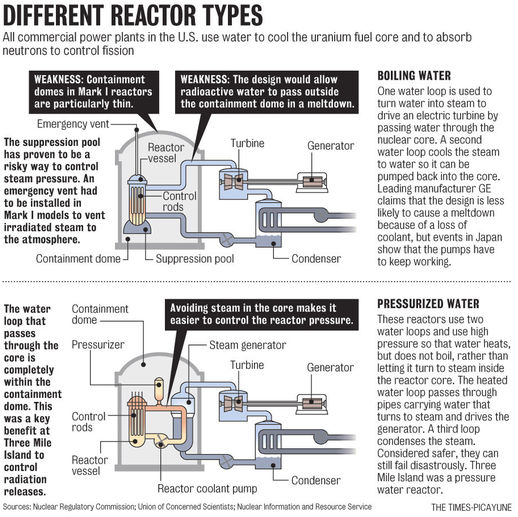 "Fault hazards were not recognized at the time of the levee design and construction, but are now known to pose a significant natural hazard," Gagliano testified before the committee, advising that "all existing and proposed levee alignments" in the state should be evaluated for potential fault hazards.
The Waterford 3 plant, owned by Entergy Louisiana, sits on a 3,000-acre site along the west bank of the Mississippi River in Taft. A two-loop, pressurized water reactor that went into operation in 1985, Waterford is the closest nuclear plant to New Orleans. Joseph Kowalewski, site vice president at Waterford, says the plant was designed to withstand every worst-case scenario anticipated for the region.
But Gagliano and others fear that shifting fault lines may have altered the risks the plant faces in the decades since it was built.
Gagliano said it's possible similar growth faults, breaks in beds of rock or sediment, lie underneath the levees around the plant, which could shift the foundation and cause the foundation to crack.
Levee failures
He attributed levee failures in New Orleans during Katrina, at the 17th Street Canal, the London Avenue Canal, and the Industrial Canal, to "locations where there are underlining faults, and the faults created a zone of weakness."
"We have this structural framework underlining the state or the coastal Louisiana and it's generally active. It pulses; in a sense we have periods of more extensive movement than dormant," said Gagliano, noting that such activity "might last for long periods of time."
Technology finds faults
Over the past decade, the number and distribution of surface faults in southeast Louisiana "has grown quite an extent," said Richard McCulloh, a research associate with the Louisiana Geological Survey.
McCulloh credited the advent of laser technology known as LIDAR, for light detection and ranging, for making it possible for geologists "to see a lot more."
"As a result of that, more surface faults have been discovered," McCulloh said, and others that were previously known have been "mapped with much greater detail."
He said the technology, which started becoming available about a decade ago, makes it easier for geologists to recognize escarpments, the slope or cliff caused by erosion or faulting that separates two areas of differing elevations, especially the types of escarpments an active fault would create at the surface.
"We just know so much more about these activities now than we did when that plant was built," Gagliano said.
But while McCulloh agreed that the potential of fault hazards near the plant deserved another look, he said, "I cannot say with any confidence whether or not there's anything at or near the surface in that area."
"On the other hand," he continued, "I am aware of something based on a published source at a depth of about 8,500 feet."
The deeper into the ground that a fault line is located, displacement starts to occur, and the amount of displacement decreases at a certain depth, he said. "By the time you get up to some depth, the fault has died out entirely, and there's no displacement," he said.
"To say that there's a surface fault in that area, you want to have some positive evidence. At the moment, as far as I know, there is something I have from 8,500 feet down approximately, and that's it," he said.
Self-contained island
Still, like the other 103 nuclear plants operating in the U.S., the plant was designed to withstand earthquakes and other natural disasters that could be expected in its region, Kowalewski, the Waterford site vice president, said Thursday.
In the case of Waterford, that means bracing for tornadoes, hurricanes and floods from the nearby Mississippi River, as well as a potential flood surge.
The worst case scenario, he said, was determined to be a combined flood of the river with hurricane-force winds. The power plant is built to withstand hurricane winds of up to 200 mph, and a tornado traveling at speeds of up to 360 mph, he said; in addition, the plant, which sits 15 feet above sea level, at one of the highest points in St. Charles Parish, can withstand flooding of up to 30 feet, he said.
Kowalewski described the plant as an "island," meaning that there is a reinforced concrete structure, with watertight doors, and that reinforced structure houses all of the necessary equipment to maintain the reactors and the spent fuel pool, including energy power supplies.
"If you look at the Japan disaster, one of the things that happened is that the emergency diesel fuel tanks were washed away from the tsunami," he said. "Our fuel tanks are within that reinforced concrete bunker."
The plant was designed to withstand a natural disaster by being "completely isolated, from the grid, from the roads, so the plant is able to be self-sustaining," he said. In case of an emergency, there is enough fuel at the plant to run for seven days, and its oil-storage tanks can be refilled using a barge.
President Barack Obama on Thursday said he has asked the Nuclear Regulatory Commission to conduct a "comprehensive review" of the safety of all U.S. nuclear plants, which provide about 20 percent of the nation's electricity.
New Orleans-based Entergy Corp., the second-largest nuclear power generator in the nation, is among more than a dozen companies considering building upward of 30 new nuclear plants, including one in Louisiana. However, plans for the Louisiana plant were put on hold in 2009 after Entergy failed to strike a deal with the manufacturer of its reactor of choice.
Michael Tritico, a biologist from Longville who serves as president of the regional environmental group Restore Explicit Symmetry To Our Ravaged Earth, or RESTORE, said he expressed concerns about potential fault hazards under the levees when the plant was licensed decades ago, but said that it went unheard.
"
Building a plant at the exact location where there is a known underground fault is asking for trouble
," Tritico said Wednesday. "If there is ever during a spring flood, a levee breach, then we've got a tsunami from the river that does what happened in Japan."