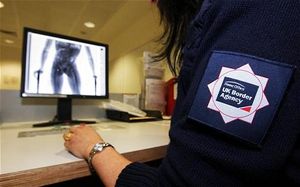 The European Parliament spent £600,000 on six body scanners that were never used because MEPs argued it would be an infringement of privacy.
The body scanners, bought in 2005 at a cost of £100,000 each, are "rotting" in the basement of the building in Brussels and have never been used.
When the scanners, which create an image of a person's nude body, were eventually delivered to the Parliament in the autumn of 2005 MEPs objected to them being used in the building on privacy grounds.
Nikki Sinclair, a British independent MEP, said the Parliament tried to sell the machines but failed to do so.
They are now so old that they are considered to be technically out of date and may be scrapped altogether.
"These machines have been left to rot on pallets in a disused garage in the depths of the parliament building," she said. "They were ordered in haste and now the Parliament doesn't know what to do with them.
"This is another example of the waste and mismanagement in the European Union, indeed, taxpayer subsidised bureaucracy. This is only a small portion of the £50 million a day the UK gives the EU but it is endemic of how the EU is fundamentally flawed. It beggars belief that these unelected bureaucrats purchased the most expensive machines available at the time. They seem impervious to economic realities."
MEPs led the campaign to stop the use of the scanners in the Parliament yet they are in use in 70 airports across Europe, including Manchester and London Heathrow.
Security in the Parliament is currently a cause for concern following three robberies in a many years and after a French journalist recently managed to smuggle in a toy gun and stand yards away from Prince Charles on his recent visit.
Access to the building is currently controlled by airport-style X-ray machines although there have been calls for improved security measures.
A Parliament spokesman said, "We do not comment on security issues."