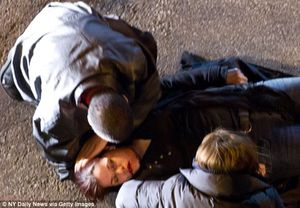 A father-of-two accused of punching a woman so hard in a dispute over a parking space that she now she lays in a coma is claiming that she threw the first punch, and that he was acting in self-defence.
The altercation took place on February 25 when 4ft 11in, 100 pound Lana Rosas, 25, was standing in the space she was saving for her boyfriend on 14th street in New York's East Village and refused to let 35-year-old, 150-pound Oscar Fuller park there.
The argument that followed left Rosas lying in the street unconscious with blood pouring from her mouth. She has been in a coma at Bellevue Hospital ever since the February 25 incident.
Fuller, an electrician from Queens, apologised to Rosas and her family today, but says that he it was Rosas that struck him first.
'She hit first. And just like we know, there's camera's everywhere inside New York City,' he said from the court house steps today after he was released on $100,000 bail.
The grand jury indicted him today on one count of felony assault in the second degree.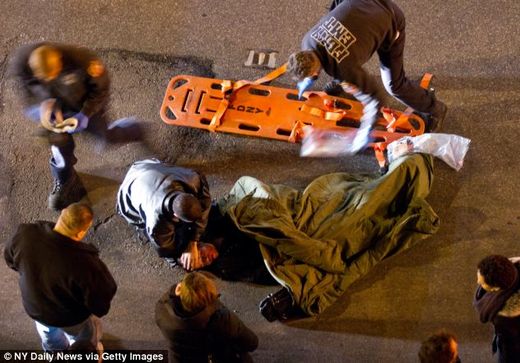 'Towards her family I am very, very sorry for the situation that she's going through right now, and I'm hoping for a speedy recovery, Fuller added.
'It crushes my life as well that when nobody would think anything would happen, that it would go this far,' he said.
Fuller sped off after knocking Rosas down
, but witnesses were able to take down his number plate. He was arrested and charged on felony assault charges Tuesday night. He says that
he attended a birthday party after the incident
.
'I wish I just let her hit me. It was out of reflex, just a reaction that went the wrong way,' Fuller told the
New York Daily News
.
Manhattan prosecutors said in court papers that
Fuller hit Rosas 'with so much force that the woman flew off of her feet, was knocked unconscious and hit her head on the ground.'
Paramedics at the scene near the Stuyvesant Town residential development were careful not to move her, affixing a neck brace to avoid possible paralysis.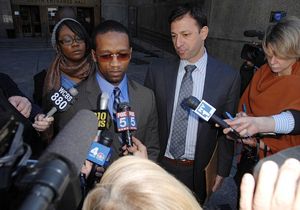 Rosas was meeting her boyfriend Joseph Oliver for dinner and was holding a parking space when Fuller approached in his Plymouth Voyager.
According to Fuller's lawyers, he did punch the woman in the face, but only after she hit him in the eye first, followed by several more blows.
Fuller claims he was polite at first but when Oliver, who was across the street and preparing to make a U-turn, jumped out of his car and ran toward him, the suspect punched Rosas in the face.
His lawyer Thomas Kenniff explained: 'My client acted on instinct. He didn't act on intent. We punish intent and foreseeable acts.'
Police records show Fuller has previous arrests for assault and drug possession.
Fuller is due back in court on April 7.