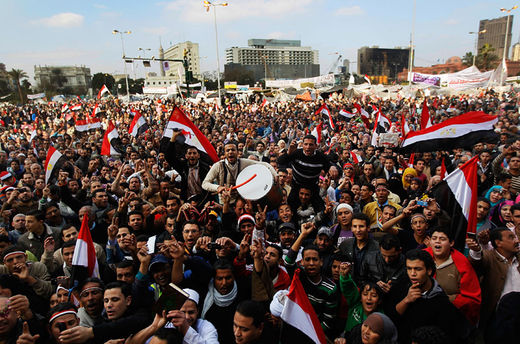 Egypt's general prosecutor has imposed a travel ban on former president Hosni Mubarak and his family pending further investigations.
The prosecutor Abdel Magid Mahmud on Monday also ordered the freezing of all of their financial assets inside the country.
"The decision today is acting on complaints received on wealth accumulated by former president and his family," a statement from the prosecutor's office said. The statement did not elaborate on the complaints.
Judicial officials said the decision applied to the deposed president, his wife Suzanne, his two sons Ala and Gamal, and their wives.
The move follows a previous order for the family's financial assets abroad to be frozen. Mahmud requested that freeze on February 21, while charging foreign minister Ahmed Abuol Gheit with contacting foreign governments and financial institutions to seek the freeze.
Switzerland, which froze Mubarak's assets within hours of his resignation, previously said the former president had "tens of millions of francs" in Swiss financial institutions.
Media reports suggest the former president's wealth may total billions of dollars.The state-owned Al-Ahram newspaper reported that the Mubarak family had "secret accounts in Egyptian banks," including deposits of $147 million for his wife and $100 million each for his sons.
'Significant development'
Al Jazeera's
Ayman Mohyeldin, reporting from Cairo, said the order is a significant development, but that critics may say the move comes too late.
"Since the revolution began, there has been plenty of time for him and his closest associates, and his two children, to perhaps conceal some of these financial assets, to move them to offshore accounts or put them in other people's names," he said.
He said the imposition of a travel ban is an attempt to portray the prosecutor as being robust in investigating crimes, or alleged crimes committed by the former regime.
Hossan Issa, a founding member of the Judicial Committee to Recover Egypt's Wealth, said there were unconfirmed reports that a significant amounts of assets had been syphoned to Saudi Arabia and Israel in the past few days.
"It's known that Mubarak has made his wealth out of arms deals, the aid received by Egypt and most significantly by exporting gas to Israel," he said.
The announcement of the travel ban and assets freeze came a day after judicial officials said former interior minister Habib al-Adly would go on trial for money laundering from March 5.
In the wake of the popular uprising that toppled Mubarak, Egyptian authorities have launched numerous judicial proceedings against those close to Mubarak, most of them based on accusations of corruption and fraud.
The former president stepped down on February 11, after 18 days of mass protests across the country against his rule, which lasted for three decades. He is believed to be living in seclusion with his family in the Red Sea resort of Sharm el-Sheikh.
The country's Supreme Council of the Armed Forces, to whom Mubarak handed power, has said it hopes to hold elections for a new president within six months.
Ibrahim Sharquieh, deputy director of the Brookings Doha Centre, said the country's military rulers are trying to show that they are serious about reform.
"Mubarak and family's travel ban by Egypt's prosecutor, political reforms and arrest of close Mubarak aides are positive steps," he told
Al Jazeera.
"It gives assurance to pro-democracy protesters that people from the previous regime won't be retained. However, the military needs to do much more to satisfy the protesters. It should hold election within six months."