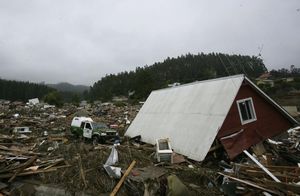 Around 3,000 people whose coastal town was leveled by Chile's massive earthquake and tsunami one year ago still live in squalid conditions that some compare to a "concentration camp."
In El Molino camp, some 450 temporary homes line streets of rubble, with no running water and shared makeshift bathrooms.
Residents lost everything when the nearby town of Dichato on the central coast was razed by the giant quake -- measuring 8.8 on the moment magnitude scale -- and subsequent tsunami on February 27, 2010.
Jimena Toledo, a community leader, regularly visits inhabitants of the wooden shacks, stepping over trash and other debris to walk down the streets, which are regularly flooded with mud during the winter months.
"Life in the village is bad, bitter, and ugly. I think it's like a concentration camp. People shut themselves in their homes at nine o'clock at night and that's it," Toledo told AFP.
"It wasn't like that before... we went out."
The government set up the camp, which is one of Chile's largest, three weeks after the quake, renting the land from a forestry company.
Almost all the former residents of Dichato now live there after the destruction of around 80 percent of their fishing town, which was once popular with tourists. Twenty-six people died there.
"Few people go to Dichato. Although they don't want to believe it, this is a new town," Toledo said of the camp.
A fruit and vegetable market takes place several days of the week, and many people have set up stalls selling basic goods.
Another 106 temporary villages sprung up after the quake to house the more than 4,000 families worst affected by the tragedy, which left 524 people dead and at least 31 missing, as well as 30 billion dollars in losses.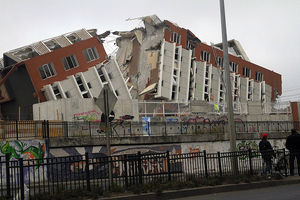 Some residents have now painted their temporary homes, and many have strung up the blue, white and red Chilean flag.
Others have hooked up satellite dishes, and some have even planted flowers outside as they wait for government subsidies to obtain permanent housing.
A total of 135,000 subsidies have so far been allocated, some 61 percent of the total promised to compensate for 220,000 severely damaged or destroyed homes, according to official figures.
Fifty thousand homes are now being built.
"Reconstruction is advancing at a good pace. We've advanced significantly," said President Sebastian Pinera at a recent meeting with foreign journalists.
But inhabitants of the villages, who still lack water and some basic services, believe it is taking too long.
"We laid the first stone in the new houses two weeks ago and the equipment (to do the building work) still hasn't arrived," said Sergio Vasquez, who lives in a nearby village.
"From the first stone it could take one or two years" to finish the homes, he added.
The disaster added half a million people to Chile's poor, who represent almost a fifth of the total population of 16 million.
"The worst is for the elderly. They don't have the strength to fetch water containers," said resident Pedro Cisternas, as he piled lunch plates into a cleaning basin.
Many spend their time moving between community laundry rooms to rinse and wash by hand. Everything gets soaked when it rains.
"We're not asking for anything extraordinary, only to live with dignity in poverty," said Toledo.
Lingering trauma one year after deadly Chile quake
The debris is gone, but one year after one of the most powerful earthquakes ever to hit humankind, Chile is still living with the trauma of a disaster that killed 524 people.
Strong after-shocks continue to be felt in this South American nation, creating new pangs of anxiety for thousands still receiving emergency food rations as they wait for the reconstruction of their homes.
"This wound will never heal, it just has to be coped with," said boatman Emilio Gutierrez, who lost his young son, his father and his house to the tsunami that followed the quake on February 27, 2010.
That seism measured 8.8 on the open-ended moment magnitude scale, a cataclysmic force that burst from an epicenter just off the coast of a town called Constitucion, near the capital Santiago.
It was the fifth-most powerful quake ever recorded.
Gutierrez, living in Constitucion, had tried to save his family, putting his four-year-old boy with his father in one boat and following in another.
The tsunami towered 15 meters (50 feet) over the other boat as he watched, terrified, then swept the other two away to their deaths.
"I found my father but never found my son. I walked around for 10 months looking for him every day," Gutierrez told AFP.
Ultimately, he had to resign himself to officials telling him all hope was lost. "I'm going to let him rest in peace, because I didn't find him," he sighed.
Jimena Toledo, a resident in nearby Dichato, likewise said the nightmare of last year would never be forgotten.
"Forget what we lived that night? I think that would take an eternity. We are going to die remembering. I close my eyes and I can still hear people screaming for help. I can still hear the noise of the ocean, even smell it," she said.
The topic of the quake dominates table conversations in the area, a dark contrast to the region's reputation for summer beach vacations.
A morbid tourism has even sprung up, with visitors dropping in to see the after-effects of nature's wrath.
Bitterness lingers over the deadly miscalculation of officials that day. A tsunami warning was issued after the quake then canceled on the navy's mistaken advice that no danger was imminent.
That blunder, which greatly worsened the death toll, is today the subject of an investigation.
The temblor also proved devastating economically: There are now half a million more poor people in Chile as a result.
Some 220,000 homes, 3,700 schools, 17 hospitals and 212 bridges were destroyed, according to official figures. The total cost of the damage has been put at 30 billion dollars, or 18 percent of Chile's gross domestic product.
In Dichato, almost all the 3,000 residents are in temporary shelters in a zone with no running water, where the cramped living conditions are reviled by those forced to stay there.
"Life in the village is horrible, disgusting. To me, it's like being in a concentration camp," Toledo said.
They and others left homeless from the quake are still waiting for new homes.
Authorities said 135,000 people have been assigned houses to houses yet to be built, but bureaucracy was dragging out the process.
Analysts, though, note that Chile -- a relatively prosperous nation with solid buildings -- came out of its disaster better than, for example, Haiti, whose less powerful quake just a month earlier proved more deadly, killing more than 220,000 people.
"Effectively, the damage is significantly less if we take into account that the private sector is operating normally a year after the quake" in Chile, and the national economy managed to grow 5.2 percent in 2010, an economist, Alejandro Fernandez, said.
But that is no comfort to those who lost loved ones and livelihoods.
Gutierrez worked with other families in his town to have a memorial built to his son and the others killed. In front of it, he has placed a toy boat and flowers.
Tourists are still coming, still taking trips in boats from Constitucion. But they are not swimming in the water like they used to.
"People don't want to swim out of respect of those who disappeared. Me neither, I don't want to swim. For them. For the respect I have for them," Gutierrez said.
His tears are now what he gives to the ocean, when he is in his boat away from his wife and their month-old baby girl.
"The other day I put the boat in the water, and I started to cry," he said.
"It hurts. A year ago, I was putting it in the water with (my son) Emilito in it alongside my father," he said. "Now I'm in it alone."