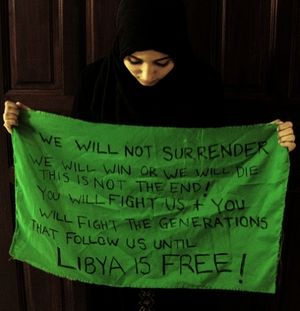 Army leaders in eastern Libya who have turned against the Gaddafi regime are preparing to send a rebel force to Tripoli to support the beleaguered uprising in the capital, according to a top military official.
Brigadier General Ahmed Gatrani said a small force comprising army defectors and rebels had already reached the outskirts of Tripoli, where an attempt to oust Muammar Gaddafi on Friday was crushed by pro-regime paramilitaries and soldiers firing indiscriminately at protesters on the streets.
The move came as the UN Security Council voted unanimously to impose military and financial sanctions against the Libyan leader and his inner circle and to refer his regime's crackdown on protesters to a war crimes tribunal for an investigation of possible crimes against humanity.
The vote by the 15-nation body also called for an immediate arms embargo against Libya, where the UN says more than 1000 people have been killed in attacks blamed on Gaddafi loyalists.
US President Barack Obama has for the first time called on Colonel Gaddafi to step down, deepening the Libyan leader's international isolation as he struggles to contain a revolt that threatens his 41-year rule.
The UN resolution imposed a travel ban on Colonel Gaddafi and 15 relatives and loyalists. Six of those individuals, including Gaddafi himself and his immediate family, are also subject to a freeze of their assets.
In addition, the resolution calls on Libya to respect press freedom and to permit the entry of relief workers, medical supplies and other humanitarian assistance. It also urges Libya ''to ensure the safety of all foreign nationals and facilitate the departure of those wishing to leave the country''.
''We are trying to organise people who will sacrifice their lives to free Tripoli from the dictator,'' said General Gatrani, who heads the military committee now in charge of the army in Benghazi, 1000 kilometres east of the capital and the first major city to fall under opposition control. But, he cautioned: ''Entering Tripoli is not easy. Anyone trying will be shot.''
The prospect of a rebel army marching on the capital to confront loyalist members of the same army raised the spectre of outright civil war in a country already violently polarised between supporters and opponents of the regime.
In another sign of the deepening division, Mustafa Abdel Jalil, the former justice minister who recently defected, announced the formation of an ''interim government'' to govern the eastern regions under rebel control.
Colonel Gaddafi's son, Saif al-Islam, warned in an interview with the al-Arabiya TV network on Saturday that ''the signs of civil war and foreign interference have started''.
However, there is no indication that any rebel groups have reached Tripoli or participated in the fighting in areas where protesters are confronting heavily armed Gaddafi loyalists with sticks and stones. A small group of 22 rebels and soldiers that set out from Benghazi on Friday encountered pro-regime forces near President Gaddafi's home town of Sirte and were executed, General Gatrani said, illustrating the hazards that any such army would encounter.
At the same time, regime opponents in Tripoli are grappling with the realisation that dislodging President Gaddafi and his loyalists from the capital is going to be far tougher than it was in the string of towns and cities in the east overrun by protesters within days of a mass uprising on February 17.
Concerns are growing that a protracted standoff could result in a humanitarian crisis, with areas under Colonel Gaddafi's control already said to be running out of food and essentials. Tripoli residents say shops are empty and bread is hard to find. Egyptian refugees fleeing into Tunisia reported that bread lines of more than 100 people were forming every day.
Dozens are feared to have died in the brutal repression of the protests on Friday, which organisers had billed as a last-ditch effort to topple the regime but instead ended with a rout of the protesters by armed soldiers and paramilitaries cruising the streets and opening fire at random from jeeps, sports utility vehicles and even ambulances.