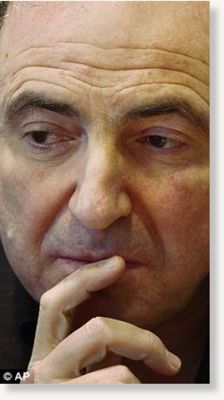 Police and radiation experts were alerted after controversial Russian oligarch Boris Berezovsky was hit by a mystery illness at his £20 million country estate in Britain.
The 65-year-old billionaire felt so sick for a fortnight that it was feared he may have been the victim of a radioactive poisoning attack similar to that which killed his close friend, former Russian KGB officer Alexander Litvinenko, in 2006.
Security aides to Mr Berezovsky - a bitter enemy of Russian prime minister Vladimir Putin - called in forensic experts from the Health Protection Agency to screen his mansion at Weybridge, Surrey, and his other homes and offices last month.
Mr Berezovsky flew to Israel for a check-up by his personal doctors before being given the medical all-clear.
Traces of Polonium 210 were found at Mr Berezovsky's offices in Mayfair soon after the death of Mr Litvinenko
, whose widow has accused Mr Putin and the Russian secret service of his murder.
He had met Mr Berezovsky at the offices not long before he died.
Mr Berezovsky made the news earlier this week after it was confirmed Chelsea FC owner Roman Abramovich lost an appeal against him by former business partner Mr Berezovsky.
Mr Abramovich had asked the Court of Appeal to overturn a ruling by High Court judge Mr Justice Colman who refused to strike out the action.
But three appeal judges agreed that the claim - scheduled for trial next year - should go ahead.
Mr Berezovsky alleged that Mr Abramovich used 'threats and intimidation' to force him to sell shares in Russian oil company Sibneft at a fraction of their value.
These threats included pressure from Mr Abramovich that if the shares were not sold, they would be expropriated by the Kremlin, according to the claim.
On appeal, Mr Abramovich said the claim for intimidation should be struck out because it does not allege he threatened that he would do something illegitimate and actions of the Russian state cannot be determined by the UK courts.