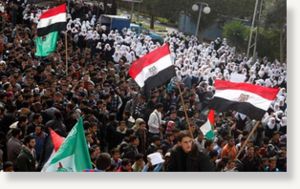 Movement organised on Facebook aims to end the bitter divisions between Hamas and Fatah
Their movement has no name and no leaders. Just a goal, and a tool.
The goal is to force an end to the political divisions among Palestinians by stirring the youth of Gaza and the West Bank to emulate their brothers and sisters in Egypt, Tunisia and Libya.
Their tool - as elsewhere - is the internet, specifically Facebook. "End The Division", a page in both Arabic and English, calls for protests across the Palestinian territories and refugee camps in Jordan and Lebanon on 15 March. It has already got thousands of supporters, and is growing by the day.
The Gaza students behind the Facebook page refuse to give their real names for fear of arrest. They arrange meetings through trusted intermediaries on neutral ground and send emissaries to sound out public figures and politicians.
"This will become a reality," says one of them, who calls himself Abu Yazan. "It's going to happen. We are spreading the word. The first day will be hard, the next day will be better. It will grow."
Another, Abu Ghassan, says: "For the past month, Palestinians have been spectators. We've watched as youth take the initiative and risk their lives. What happened in Egypt needs to happen here."
They are not demanding the overthrow of the Hamas government in Gaza nor the Fatah-dominated Palestinian Authority in the West Bank. What they want is the parties to overcome their bitter rivalries and unite to fight their common enemy: Israel.
"We call on all the Palestinian factions to unite under the banner of Palestine, in order to reform the political system ... based on the interests and aspirations of the Palestinian people in the homeland and the diaspora," says the mission statement on Facebook.
They are asking for a "complete rebuilding of the Palestine Liberation Organisation, to include within it all the colours of the Palestinian political spectrum, including Hamas".
The students have been careful to focus on a demand that is difficult for either Hamas or Fatah to reject. Both factions, officially at least, say they want reconciliation.
But the issue of division is not an abstract one. "Every Palestinian is hurt by division," says Abu Ghassan. Gaza's isolation, the restrictions on movement, the delays in holding elections, the separation of families are all, he says, to some degree assisted by political division.
"In the West Bank, people are concerned with settlements and the wall. Here it's the siege. I tell people I'm from Gaza, not from Palestine, and that's very sad. We want the spirit of one people to come back."
Division, says Abu Yazan, "is killing us, like a cancer".
The students are attempting to unify nine groups or Facebook pages in Gaza calling for action in the coming weeks. Abu Yazan and Abu Ghassan are part of the eight-strong team behind Gaza Youth Breaks Out, which at the end of last year published an impassioned manifesto expressing frustration with life and politics. Thousands signed up in support.
The revolutionary unrest sweeping across the Arab world has spurred them to try to translate their "Manifesto for Change" into street protests. But they face formidable obstacles.
"We live in constant fear, that we're being followed, that they know who we are, that we are letting slip our identities," says Abu Ghassan. The pair believes their mobile phones are tapped by Hamas intelligence, and that they could be accused of being collaborators with Israel or working for foreign interests in an attempt to discredit them.
Fear is a great inhibitor, the young men acknowledge, which needs to be fought and conquered for their movement to succeed.
Some of their group have not told their families of their involvement. "Many parents don't get what we're trying to do," said Abu Ghassan. "Optimism is a generational thing."
They are adamant that they are not launching a political party, nor are they trying to overthrow either the Gaza government or the Palestinian Authority. "We are not aiming for revolution," says Abu Yazan. "In Egypt they wanted to end the regime. Here we want to bring the regime back to life, united in the Palestinian cause."
Young people in Gaza have had enough of despair, repression and being marginalised, they say. Unemployment is around 40%; use of the painkiller Tramadol is widespread; there is almost nothing in the way of social or recreational opportunities.
They are careful not to raise expectations of what the 15 March turnout might be. But a random straw poll by the
Guardian
at al-Azhar University in Gaza City found most students saying they would support a protest against political division, although many feared the response of the security forces.
Taher Nounou, a spokesman for the Hamas government, says it, too, wants an end to division and is ready for reconciliation with Fatah. "But the way to end the situation is not by demonstrating," he adds. "If they want to have the same thing that happened in Cairo, we cannot allow it."
Hamas regularly calls people out to rallies in Gaza, as does Fatah in the West Bank. The latter has called for a "Day of Rage" on Friday in protest at the US veto on a UN security council resolution condemning Israeli settlements.
But the End the Division Facebook group is a grassroots non-aligned movement, in regular contact with students in the West Bank and with connections to Palestinians and pro-Palestinian groups in Europe and South America as well as the Middle East.
They are convinced that people will rally to the cause of Palestinian unity. The students are already making plans for actions beyond 15 March, but they know that the date will be a test of support and people's readiness to confront the authorities.
"Both movements [Fatah and Hamas] are weak when facing the enemy but so strong when facing their own people," says Abu Yazan.
"We're doing this because we want to have a future here," says Abu Ghassan. "And tell our sons that we did something for the future of our country."