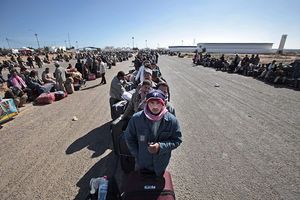 Italy faced criticism in the European Union on Thursday (24 February) for raising the alarm about a potential wave of refugees from Libya, with several governments saying Rome's calls for help in dealing with migrants were exaggerated.
EU justice ministers were meeting in Brussels yesterday to weigh contingency plans if escalating violence in Libya triggers massive outflows of people.
But international experts say out of at least 30,000, mainly Tunisians and Egyptians, who have fled turmoil so far, none were headed for Europe.
"For the moment, we had not seen any people coming to Europe from Libya," said Cecilia Malmström, the EU commissioner responsible for home affairs.
"What we see is that people from Libya have started to go to Tunisia and to Egypt, and it is of course important that we can assist Tunisia and Egypt to address this humanitarian situation and to help people who come there," she added.
Rome has warned hundreds of thousands could flee to Italy, an important European port of entry for many migrants from North Africa, and asked its European partners for funds and help in housing them.
But EU justice ministers, mainly from Northern Europe, said during a meeting in Brussels it was too early to predict how many people could seek shelter from turmoil in North Africa in Europe, and rebuffed Italy's requests.
"We shouldn't paint the devil on the wall until he appears," said Sandor Pinter, interior minister for Hungary, which holds the rotating EU presidency.
Austrian Interior Minister Maria Fekter said Vienna was ready to help if turmoil led to a humanitarian disaster, but this was not the case yet. "We are against reallocating asylum seekers from Italy to the rest of Europe," she said before the meeting.
EU divisions on asylum
The rift underscores divisions in Europe on how to tackle immigration and share responsibility for housing refugees, asylum seekers and irregular immigrants to the bloc.
Under EU rules, asylum seekers can only apply for assistance in the country in which they first entered the EU. In case of a humanitarian disaster outside EU borders, the bloc's governments are not obliged to take in refugees who arrive in another state.
German Interior Minister Thomas de Maiziere said Berlin had done a share of caring for massive flows of refugees when it sheltered thousands that fled Balkan wars in the 1990s.
He said Italy was "challenged but not overstretched" by more than 5,000 people that have arrived on the Italian island of Lampedusa in recent weeks, fleeing unrest in Tunisia. "We have lived up to our humanitarian responsibility," he said. "We shouldn't be painting horror figures and encouraging refugees to come to Europe."
The EU's border agency Frontex sent teams of officials in recent days to Italy to deal with migrants from Tunisia.
But Italy wants a promise that more help would be available. Its worry is that many of the hundreds of thousands of migrants from Asia and other parts of Africa now living in Libya could seek shelter in Italy.
"We ask for solidarity of other member states [...] We cannot be left alone," Italian Interior Minister Roberto Maroni said.
EU Home Affairs Commissioner Cecilia Malmström said there are different ways the EU could assist. "It could be through money, it could be through experts, it could be through assisting in Frontex, it could be through personnel, staff, etcetera."
But she said it was too early to do anything additional. "For the moment we should not plan for a situation that hasn't come yet. We know what instruments we have at our disposal, but we don't really know exactly what will happen and how many people will come."
EU weighs humanitarian intervention
In Brussels, senior officials said the European Union was weighing a range of options to evacuate 5,000-6,000 EU citizens still in Libya, many of them oil company employees, and said one possibility was a military humanitarian intervention force.
"We are in contact with EU member states to see whether their facilities, civilian and military, can be deployed for this [evacuation of EU citizens]," a senior EU official said.
The EU Monitoring and Information Centre has been activated as from Wednesday night (23 February) and one of their missions is to help evacuate European citizens, said Malmström.
Britain's Defence Secretary Liam Fox said his country had been discussing with the NATO leadership how better to coordinate efforts to get people from a number of different countries out of Libya over the next few days.
The British government has been heavily criticised at home for being slow to evacuate Britons from Libya.
Britain calls for international investigation
Meanwhile, British Foreign Secretary William Hague called for an international investigation into Libyan state violence and the United States said it was looking at all options, including enforcing a no-fly zone over Libya, and did not rule out military action in its response to the crisis.
The international community must "increase the pressure on a regime which by all accounts is now committing serious offences", Hague told BBC radio.
Britain wants Libya suspended from the U.N. Human Rights Council, which is due to meet on Friday, Hague told Sky News.
The U.S. State Department said the United States backed Libya's suspension from the council and was prepared to take additional steps to try to stop the violence.