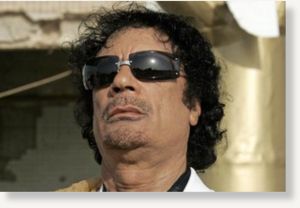 Libya's deputy ambassador to the UN says thousands of people have been killed during protests, as unconfirmed reports have come in claiming the regime has used poison gas on demonstrators.
Ibrahim Dabbashi, who has turned against the Gaddafi regime, said the death toll is expected to rise as Muammar Gaddafi continues his bloody crackdown against the opposition.
"There are already thousands of people who have been killed, we expect more. They are gathering all the bodies and they are taking them to the desert or somewhere. No one knows where are the bodies of the victims," AFP quoted Dabbashi as saying.
His comments came ahead of a UN Security Council meeting on the crisis in Libya.
Dabbashi said the "psychologically unstable" Gaddafi has the choice between being killed or committing suicide. "He might seek to send some of his family members abroad but I believe he prefers to die in Libya because of his narcissistic character, he wants to act like a hero."
Meanwhile, there are reports that forces loyal to Gaddafi's crumbling regime have mounted attacks in towns west of Tripoli.
The regime has already lost control of Misurata and Zuara in the west. Opposition protesters are now in control of major cities in the east, including Benghazi.
According to reports, security forces loyal to Gaddafi have stormed hospitals in Tripoli and murdered protesters who were being treated.
There are also unconfirmed reports that the regime has used poison gas against demonstrators in Misarata.
The United Nations Security Council is set to meet to discuss sanctions against Gaddafi and those loyal to him at the request of the French and British missions to the UN.
The United States and Europe plan to consider the possibility of freezing the assets of Gaddafi and some of his top officials responsible for the deadly crackdown on the people.