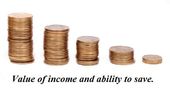 Families' disposable income dived by a record £9 a week during January as inflation continued to outstrip wage growth, research has indicated.
The average family had £174 a week left to spend after meeting all of their essential outgoings, down from £183 a week in January last year, according to supermarket group Asda.
It was the 13th consecutive month during which people suffered a year-on-year fall in their disposable income, while it was also the biggest drop recorded since Asda first began collecting the data in January 2007.
The group said the continued decline in spending power seen during 2010 and into 2011 was caused by the price of essential goods and services rising faster than net incomes.
Inflation as measured by the Consumer Price Index rose to 4% in January, but average incomes rose by just 2.4% during the previous 12 months.
Families are expected to continue to see falls in their disposable income in the months ahead, as inflation remains elevated due to higher petrol costs and the impact of the hike in VAT which was introduced in January.
Charles Davis, managing economist at the centre of economics and business research, which analyses the data for Asda, said: "With annual Consumer Price Index inflation double the Bank of England's target rate, while earnings growth remains modest, average households are seeing spending power sharply eroded.
"This trend is likely to continue into 2011, as inflation remains elevated and the labour market recovery lacks conviction."
Households had a total [average] income of £722 a week during January, which fell to £589 once taxes were taken into account.
Essential outgoings such as housing costs, utilities and food amounted to £415 a week, leaving people with just £174 for spending on leisure activities, eating out and holidays.