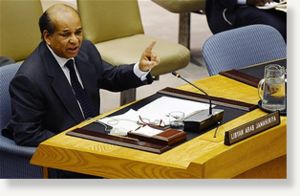 The Libyan ambassador to the UN, who is one of Colonel Gaddafi's oldest friends, denounced the embattled leader on Friday night and urged the world to punish him.
Abdurrahman Shalgam, an ally of Gaddafi since the pair were teenage radicals in the late 1950s, compared the leader's actions to those of Pol Pot and Hitler and backed the protesters in Tripoli.
In an emotional speech to the UN Security Council in New York, Mr Shalgam, who had previously remained loyal, said: "Muammar Gaddafi is telling the Libyans 'either I rule you or I kill you'." He told the 15 members of the council, who are considering an Anglo-French plan for sanctions against the Gaddafi regime: "We need a courageous resolution from you".
Outside the chamber, he gave another speech in which he pleaded for the outside world to do something "within hours, not days" to stop the bloodshed in the country.
Mr Shalgam said Gaddafi had lost the support of "90 per cent" of his diplomats and predicted further revolution in the middle-east.
"Slavery and the rule of one person is finished - it's finished," he said.
"The Arab world is going to change completely when Gaddafi will flee." "The whole Arab world will move quickly for freedom, and not by the generals. No, now the Arab people will do it.
"All the Arab world, from the ocean to the Gulf, are supporting Libya, all of them in the street supporting Libya, all of them," he said. "In one year you will have another Arab world".
Mr Shalgam defended his support for Gaddafi over several decades and his decision to continue backing the Libyan leader throughout days of brutal crackdowns on protesters.
"I couldn't imagine at the beginning the bloodshed of the victims," he claimed.
He recalled striking up a friendship with Gaddafi over a shared admiration of Gamal Abdel Nasser, the Egyptian president from 1956, as they grew up in the south of Libya.
"I was one of his closest good friends, who worked with him from the beginning of the revolution," he said. "Unfortunately we started the revolution with freedom, at the end of it you are killing our people."