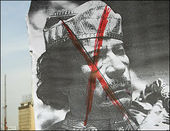 Cairo -- Members of Libya's Arab League mission say they have resigned en masse because of Libyan leader Moammar Gadhafi's use of force against his opponents.
The 11 members said in a statement Friday they decided to quit and join the opposition demanding that Gadhafi abandon power.
The head of the delegation, Abdel-Moneim al-Houni, had already resigned as Libya's ambassador to the 22-member Arab League on Sunday.
The Libyan diplomats at the Cairo-based bloc join a number of other Libyan diplomats around the world who have turned against Gadhafi. There has been mounting international pressure for the Libyan leader to relinquish power after four decades of iron-fisted rule.