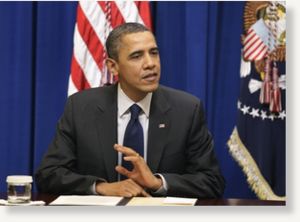 A Georgia Republican said Friday he didn't immediately condemn a constituent who asked about assassinating President Barack Obama because he was stunned by the question and didn't want to dignify it with a response.
Rep. Paul Broun, a conservative who has harshly criticized the president, confirmed that at a town hall event in Oglethorpe County, Ga., on Tuesday a man asked, "Who's going to shoot Obama?"
After the exchange was reported by the Athens Banner-Herald, Broun issued a statement Friday calling the question "abhorrent."
"I deeply regret that this incident happened," Broun said in a statement. "I condemn all statements - made in sincerity or jest - that threaten or suggest the use of violence against the president of the United States or any other public official. Such rhetoric cannot and will not be tolerated."
His office refused to say whether it had audio or video footage of the exchange.
According to the newspaper's account, which was confirmed by Broun's office, the congressman didn't criticize the man for asking the question, instead deflecting it. He told the audience that he understood their frustration with Obama and reminded them that they would have the chance to help elect a new president next year.
Broun's office also said he later alerted the Secret Service.
Ed Donovan, a spokesman for the Secret Service, said the elderly man who made the comment was questioned and is not considered a threat.
"We consider it a closed matter," Donovan said.
Broun, a doctor from Athens in his third congressional term, routinely calls Obama a socialist and said shortly after Obama's election in 2008 that he feared the president would establish a Gestapo-like security force to impose a Marxist dictatorship.