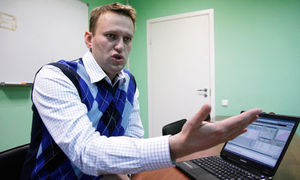 Website has tracked down £2.6m in alleged government fraud, and volunteers examine state tenders for evidence
Alexey Navalny leaps out of his chair and draws five black circles on a whiteboard. The circles represent players in Russia's multibillion-dollar oil industry. With boundless energy and lightning speed, he draws lines and connects the dots, telling the story of what he calls classic Russian corruption.
In Russia, this is not done - at least not publicly. Navalny is speaking in a country that has seen its greatest government critics jailed, exiled and killed. But the 34-year-old lawyer, smart, self-confident and apparently fearless, has made a career of going after Russia's untouchables. As Russia's chief whistleblower - a one-man WikiLeaks - he has focused in the past three years on using the law to obtain information from the infamously secretive state-run corporations that fuel the country's economy and line the pockets of its highest officials.
"Everyone says corruption is everywhere, but for me it seems strange to say that and then not try to put the people guilty of that corruption away," Navalny said during an interview at his central Moscow office, adorned with little but stacks of papers and a gleaming silver MacBook.
For now, that is not his goal. Instead, he has focused on exposing the insidious corruption that even Russia's leaders acknowledge is the country's biggest problem.
Navalny normally uses documents already available on government websites. As his reputation as a whistleblower has grown, so has his access. In November, he published a leaked Audit Chamber report that found Transneft, the state pipeline monopoly, had siphoned off $4bn from the construction of a pipeline linking Russia to Asian markets. It was his greatest coup.
Most recently, Navalny has won lawsuits against Transneft and Rosneft, forcing them to provide minority shareholders with access to company documents, including the minutes from board meetings. In May, he won a court ruling forcing police to investigate exactly who had benefited from Transneft's enormous charitable donations from 2006-07, which amounted to 15bn roubles (£317m).
"This is a huge sum even by global standards, and for Russia it's unprecedented. But no one knows what they spent it on," he said.
Navalny's latest project is RosPil, a website that uses hundreds of volunteers to comb through public documents on state tenders, a prime area of state corruption. He came up with the idea in October, after his exposure of a corrupt government tender led to its cancellation and the resignation of the state official charged with overseeing it. Just two weeks after launching the site, Navalny collected 4 million roubles (£84,000), a record sum in Russia.
"It's become more fashionable to be in the opposition, because everyone sees that the country is going to hell," Navalny said. "The powers themselves understand that and know it could all end at any moment, so it's best to steal as fast as you can."
Navalny believes little will change until the Vladimir Putin regime falls. "Change cannot come about under this leadership. These people will never deny themselves billions of dollars. Sooner or later something will change and these documents we gather will be used so they will all be put in jail."
Although angry when talking about the regime, his campaign grew from selfish motives. After a law degree in 1998 and working as a lawyer in a property development firm owned by Shalva Chigirinsky, the now disgraced oligarch, Navalny began dabbling in the stock market. "I invested some of my money in blue chips and rather quickly realised they were paying no dividends," he said. "At the same time, you could look at the Forbes rich list and easily understand where the dividends were going."
He took a master's degree in finance and joined Yabloko, Russia's leading post-Soviet democratic opposition party, in 2000, unhappy with the rise of Vladimir Putin and what he feared would be a return to authoritarianism. Navalny helped to organise protests and led election campaigns in Moscow, but several years later fell out with the party over his conservative, indeed nationalist, political views. The party had no room, he said, for concerns about illegal immigration and the plight of ethnic Russians. "Liberals in Russia will never come to power, not because of censorship or falsified elections, but because they don't discuss real problems."
A poll conducted in October by Kommersant, Russia's leading newspaper, found that if elections were held for the mayoralty of Moscow, Navalny would win an undisputed victory, with 45%. Opposition politician Boris Nemtsov and the current mayor, Sergei Sobyanin, lagged far behind with 12% and 2.8% of the 50,000 polled.
Many wonder how long his popularity can continue to grow.
"There's a history of the Russian authorities coming up with trumped-up criminal cases as well as physical attacks on people who expose corruption," said William Browder, once Russia's leading portfolio investor and minority shareholder activist. Browder was denied entry to the country five years ago on the grounds that he posed a threat to national security. His lawyer, Sergei Magnitsky, died in a Russian jail in 2009 after being refused medical treatment. "It's obviously very worrying what they might do to Alexey."
His Russian supporters agree. "We all worry about everyone who goes out front," said Elena Panfilova of Transparency International, which ranked Russia 154 out of 178 countries on its corruption index, well below any other Group of 20 nation. "The danger comes up when you go after somebody concrete, when you point a finger and name names."
Navalny is already facing legal threats. In his usual outspoken style, he called the ruling party, United Russia, "a party of cheats and thieves" during a radio interview last week. Unnamed members of the party have hired a lawyer and are planning to sue. United Russia declined to comment on the claims.
But Navalny says he has no fear. "Any person who undertakes independent action in Russia - in journalism, business, anything - takes on risk," he said. "I can understand they can do whatever they want, but that won't stop me."