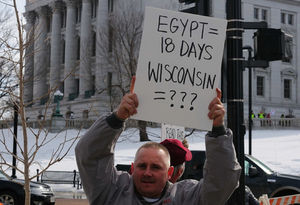 As protest in Wisconsin stretch into its sixth day on Sunday, union members and supporters are have begun to arrive in both Madison and Green Bay, where a smaller pro-union rally will take place outside Packers Stadium.
Meanwhile, Governor Scott Walker said that the state Democrats senators who have fled Wisconsin to protest a vote on his controversial legislation to reduce public employee bargaining rights have "failed to do their jobs," and that he expects then to concede this week.
"If you want to participate in democracy, you've got to be in the arena, and the arena is right here in Madison, Wisconsin," Walker said on "Fox News Sunday.
"My hope is that cooler minds will prevail and by some time earlier this coming week they'll show up for their job," Walker added. "Democracy is not about hiding out in another state. It's about showing up here in the capital and making the case there, and for us, we're willing to take this as long as it takes."
More than seventy-thousand protestors descended on Wisconsin's capitol yesterday, angry at Walker's bill to slash their union benefits and eliminate bargaining rights, a plan that has the backing of the Republican controlled state Senate. Pro-union protesters were joined by supporters of Walker's bill -- many of them bused in by tea party groups -- who support efforts against the 14 Democratic state senators who are hiding in Illinois and preventing the bill from coming to a vote on Tuesday.
Some Wisconsin doctors threw their support behind teachers protesting the Republican governor, saying they would write sick notes for teachers to skip work to demonstrate.
The Madison School District has said teachers who call in sick to protest won't be paid, but a group of licensed Wisconsin doctors came to the capitol today saying they would write a physician's note for anyone who asked.
Dr. Kathy Oriel told ABC affiliate WKOW-TV in Madison that the doctors realize they could get in trouble for their offer.
"We think it's worth the risk," she said. "Teachers have no choice."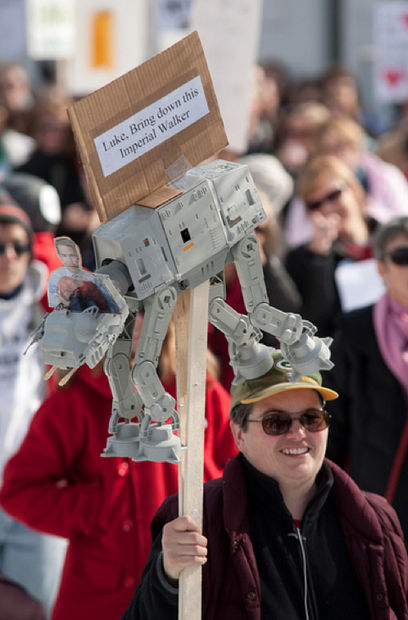 Despite yesterday's influx of supporters of Walker's bill, pro-union activists were in the majority at the dueling rallies in Madison as nearly 70,000 people filled the square outside the capitol building.
Walker supporters chanted "Pass the bill! Pass the bill!" as pro-union picketers shouted back "Kill the bill! Kill the bill!" Tea party protesters carried signs reading "Your Gravy Train Is Over ... Welcome to the Recession" and "Sorry, we're late Scott. We work for a living."
Speaking from a heavily guarded Senate parlor at the Capitol, Fitzgerald reassured supporters yesterday that the GOP-led state Senate will vote to approve it without changes, as soon as the legislature is able to reconvene.
"The bill is not negotiable," Fitzgerald said. "The bill will pass as is."
The counter-protest, which was announced by the Virginia and Wisconsin-based conservative group American Majority, was dubbed the I Stand With Scott Walker Rally, and was organized by American Majority executive director Matt Batzel.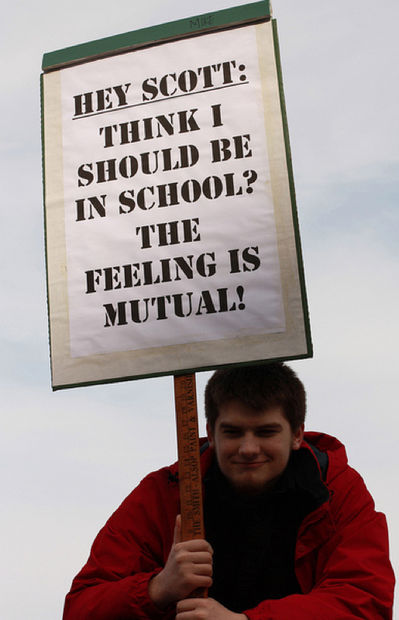 "I think we're in for something special," Batzel told WISC-TV in Madison Friday. "We're expecting to have thousands of conservatives and tea party people representing the majority of Wisconsin who stand behind Gov. Walker on this bill."
"We did have an election and Scott Walker won," Deborah Arndt, 53, of Sheboygan Falls, Wis., told The Associated Press. "I think our governor will stand strong. I have faith in him."
Meanwhile, tea party members are forming two exploratory committees to recall two of the Wisconsin Democrats that fled the state on Thursday to protest the vote on the certain-to-pass bill.
Following yesterday's protests, the tea party group Northwood Patriots said it will meet Sunday to discuss the recall of state Senator Jim Holperin, while a separate group in Kenosha, called the Robert Wirch Exploratory Committee said it is looking into recalling state Senator Robert Wirch.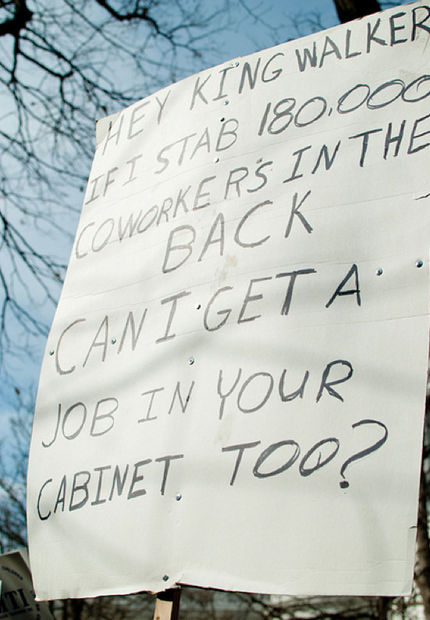 According to Madison's
The Capital Times
, a recall effort would require the exploratory committees to collect 15,000 to 20,000 petition signatures.
"[Wirch] needs to get back on the job," Dan Hunt, a self-proclaimed tea party member told
The Capitol Times
. "This has angered a lot of us. What you see in the capitol is just a bunch of out-of-state people being paid by the unions."
Governor Walker told reporters Friday that he would not "allow protesters to drown out the voice of the taxpayers," adding that he had received 19,000 supportive e-mails this week and that a "quiet majority" of the state's residents are behind his plan.