'We are victorious,' demonstrators say as they pour back to Pearl Square, setting up camp for extended stay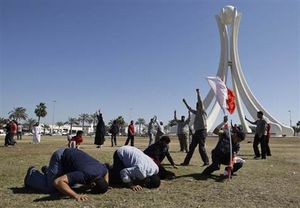 Manama, Bahrain - Anti-government protesters in Bahrain swarmed back into a symbolic square on Saturday, putting riot police to flight in a striking victory for their cause and confidently setting up camp for a protracted stay.
Crowds had approached Pearl Square in Manama from different directions, creating a standoff with riot police who had moved in earlier to replace troops withdrawn on royal orders.
Suddenly police raced to their buses, which drove away mounting kerbs in their haste to escape.
Emboldened protesters, cheering and waving national flags, ran to the center of the traffic circle, retaking it even before all police had left.
"We are victorious!" they chanted as they marched back into the square.
The crowd waved fleeing policemen through.
"We don't fear death anymore, let the army come and kill us to show the world what kind of savages they are," said Umm Mohammed, a teacher wearing a black abaya cloak.
On orders from the crown prince, troops and armored vehicles earlier withdrew from the square, which they had taken over on Thursday after riot police staged a night-time attack on a sit-in by protesters, killing four people and wounding 231.
The crowds in Pearl Square soon swelled into the tens of thousands, celebrating a triumph for the mostly Shiite protesters who took to the streets on Monday, inspired by popular revolts that toppled leaders in Egypt and Tunisia.
The authorities had been determined to prevent protesters from turning Pearl Square into a base like Cairo's Tahrir Square, the heart of a revolt that ousted Egypt's Hosni Mubarak.
'We liberated a small part of Bahrain today'
Tents, removed two days ago by the army, were set up again along with makeshift medical stations to treat any wounded.
"We liberated a small part of Bahrain today. We will liberate all of Bahrain," a man in the square said.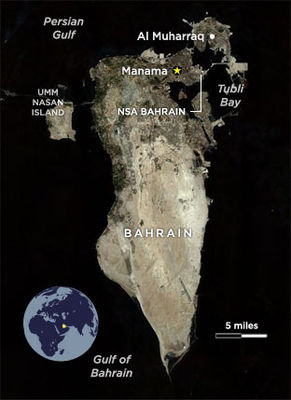 Bahrain's 70 percent Shiite majority long has felt discriminated against in the Gulf Arab island that is ruled by a Sunni Muslim dynasty and is a close U.S. and Saudi ally.
Shiites feel cut out of decision-making and complain of unfair treatment in access to state jobs and housing.
Sixty to 80 people were taken to Salmaniya hospital after being affected by teargas or hit by rubber bullets, a doctor said. He said the hospital was full and did not have enough oxygen to deal with the rush of casualties.
More than 60 people were in the hospital with wounds sustained on Friday when security forces fired on protesters as they headed to Pearl Square, then still in military hands.
Protesters on Friday described a chaotic scene of tear gas clouds, bullets coming from many directions and people slipping in pools of blood as they sought cover. Some claimed the gunfire came from either helicopters or sniper nests.
"Police attacking protesters here at hospital in Bahrain. Tear gas inside. Panic," tweeted
New York Times
reporter Nicholas Kristof. Another message on his Twitter account read: "Patients pouring into ER, along w tear gas. Chaos. Tr gas grenades thudding in bckground."
"People started running in all directions and bullets were flying," said Ali al-Haji, a 27-year-old bank clerk. "I saw people getting shot in the legs, chest, and one man was bleeding from his head."
"My eyes were full of tear gas, there was shooting and there was a lot of panic," said Mohammed Abdullah, a 37-year-old businessman taking part in the protest.
Mohammed, a 28-year-old banker who lives in Bahrain's capital and asked that his last name not be printed out of fear for his safety, said the medical complex by Pearl Square was overwhelmed.
"There is blood everywhere," he said. "Most of the shots are to the chest and the head. They were shot to kill; they were not shot to break down their gathering."
The gunfire started as protesters joined funeral mourners in Pearl Square, carrying flowers to honor the dead.
"As soon as they approached, there was gunfire," he told msnbc.com from his home in Manama, too afraid to go outside during the clashes. "My friend is just two blocks away, and he saw people falling. I have another friend who told me it's explosive chaos."
Bahrain's crown prince called for a national day of mourning "for the sons we have lost," the state news agency reported.
The following is a video report from MSNBC on the ongoing situation in Bahrain: