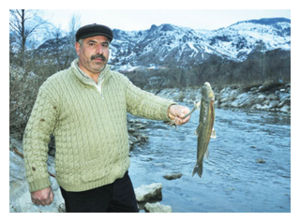 Sudden and unexplained mass fish deaths in the Black Sea region of Turkey have local residents worried about the safety of their water supply and calling on officials to solve the mystery.
When residents in Mescitli village in Gümüşhane province first observed dead fish in Harşit stream 15 days ago, they thought the fish had died of natural causes, said village head Cenk İnce.
"However, when we realized the number of dead fish had risen, we urgently informed the officials. There were fish for two kilometers along the shore, which worried us. We are using the stream's water in our agricultural activities," İnce said, according to the Doğan news agency, or DHA. He added that the villagers have urged officials to investigate immediately.
The provincial directorates of health, forest, environment and agricultural have reportedly launched an investigation, taking samples of the dead fish and the water from the stream.
Locals believe the deaths are due to pollution. "The fish died due to pollution produced by people," one villager said.
"Forty years ago, we and our animals were able to drink the stream water. Water for our crops was provided from the stream. Now there is nothing growing here, life has ended here," DHA quoted a local resident as saying.
The village has never seen anything like the fish deaths before, said resident Tacettin İnce.
Provincial Health Ministry Director Osman Öztürk said the ministry is charged with investigating the implications of the fish deaths for human health, but that environmental impacts should be analyzed as well. "The pollution here, which could even be seen with one's eyes, may have caused the mass deaths," he said, adding that fishing facilities in the Torul and Kürtün reservoirs should be warned as well.
"If necessary, we will send the water samples to the Erzurum Provincial Hygiene Institute Directorate," Öztürk said, noting that he has been informed about the issue in conversations with local residents and with the provincial head for epidemic diseases, Müjde İlgün.
"We are collaborating with provincial agricultural ministry officials. We have decided to establish a crisis management center due to the deaths," he said.
Resident Tacettin İnce said reservoirs that were cleaned by the municipality might have caused the water to be polluted when hazardous residue from the cleaning solution mixed with the Harşit stream.
He added that even animals in the village do not eat the local crops, which has forced residents to purchase the grains they use to feed their animals from other towns, the Anatolia news agency reported.