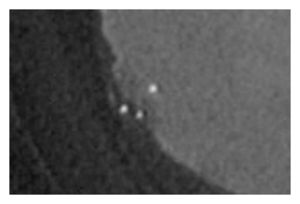 Space gave Canada a Valentine's Day rock on Monday when a piece of asteroid lit up the Calgary morning skyline.
Niel Beckie was travelling westbound on Glenmore Trail just under Crowchild Trail around 6: 55 a.m. when he saw a flash.
Beckie said he witnessed a very large blue-green fireball that broke into pieces before fading out.
"It lasted about five or six seconds," noted Beckie.
"It was unique and doesn't look like a fireworks. I was curious if anyone else had seen it."
Alan Hildebrand, Canadian Fireball Reporting Centre co-ordinator and University of Calgary department of Geoscience associate professor, said one person managed to catch the falling asteroid on video.
"Unfortunately you need multiple camera recordings to triangulate where it fell and lots of witnesses," explained Alan Hildebrand.
"It was so cloudy though, especially to the west of us."
Because of the cloud cover, Hildebrand said the space junk probably won't be found.
However, he added the rock probably landed about 300 or 400 kilometres west of the city, either in Revelstoke or Kamloops, and was about 100 kilograms.
"Now how big is a 100 kilogram rock?" asked Hildebrand. "It would be the size of a pillow."
Hildebrand added if researchers could find the rock that hurtled through the atmosphere at about 20 kilometres a second, they would be able to figure out the orbit of the asteroid.
"When you're trying to sort out the asteroid zoo, it's a lot cheaper to have a piece than going to an asteroid," said Hildebrand.
"It's certainly fun when we have enough information to proceed with an investigation."