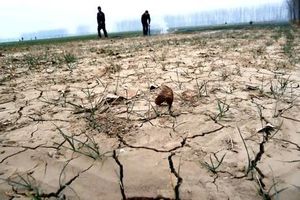 New Delhi: There is bad news on the global food front. In an alert issued this week, the
Food and Agriculture Organisation
(FAO) warned that more than two-thirds of China's gigantic wheat crop may be under risk "because of substantially below-normal rainfall" this winter.
The affected areas in the northern plains of
China
produced over 75 million tonne of China's total production of 112 million tonne of wheat last year. Any shortfall in Chinese production would have serial effects on availability and prices of wheat around the world.
Global food prices have been silently climbing upward through the past six months and with production and consumption very finely balanced, any disruption in production may wreak havoc with prices. Already, food prices are touching the record levels set in 2008 although prices of rice - the world's largest staple food - are still below those levels.
High food prices have been feeding growing restlessness and anger in a swathe of countries including West Asia.
Egypt
had experienced an 18.5% rate of inflation driving up prices of all food commodities except bread which is subsidized by the government to the tune of $1.5 billion annually. This was a major contributory factor to the 18-day uprising that dislodged the three-decade-long dictatorship of
Hosni Mubarak
. Protests against high food prices have taken place in
Oman
,
Israel
and
Jordan
and have contributed to political unrest in
Yemen
,
Tunisia
and Algeria.
Wheat flour prices were 16% higher than a year ago in China driven by fears of drought. The
Chinese government
has announced a $1.96-billion package to fight drought, including attempts to create artificial rain by cloud seeding.
Apart from staples, sugar prices are running at 30-year highs. Weather-related disruption in Australia, Brazil and China has caused international refined sugar prices to reach 35.6 cents per pound. The average price for sugar in 2010 was 27.78 cents per pound. The last time sugar prices reached these sky-high levels was in 1980.
Meanwhile, the World Sugar Committee, representing leading traders, wrote to the ICE futures commodity exchange blaming parasitic speculators for the high prices of sugar.
Nervous governments across the world are trying to stem the tide in different ways. Several countries in West Asia are stocking up on foodgrain.
Iraq
, where agricultural production has declined considerably, has placed orders for 300,000 tonne of wheat from the US, with options for another 100,000 tonne. Jordan and
Lebanon
submitted tenders for 100,000 tonne and 22,500 tonne respectively. Algeria, Tunisia and
Saudi Arabia
too placed large orders recently. Others, like
Russia
, have banned exports.
Vietnam
has devalued its currency, the dong, by 9% to curb inflation.
All these point to an impending crisis in food availability and prices that could lead to further turmoil globally.