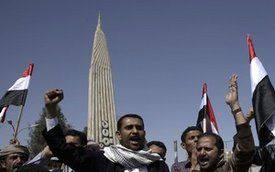 Aden, Yemen - Around 3,000 people took to the streets across southern Yemen in a "Friday of Rage", demanding secession from the north, but heavily deployed security forces quickly stamped out protests, residents said.
The protests come in the lull after a wave of anti-government rallies spread across Yemen over the past two weeks, inspired by the revolts that ousted Tunisia's former president and the uprising in Egypt that threatens President Hosni Mubarak's 30-year rule.
"Revolution, revolution for the South," protesters chanted in the flashpoint cities of Aden, Dalea and Zinjibar.
Yemen experts say the real danger to the three-decade rule of President Ali Abdullah Saleh, a key U.S. ally against al Qaeda, is if protesters from his political opposition join with rebel groups such as the separatists in the south and the Shi'ite insurgents he has made a shaky truce with in the north.
Though small compared to protests by Yemen's political opposition that attracted tens of thousands, the demonstrations in the south were the first by the separatists since the mass protests in Egypt and Tunisia electrified the Arab world.
North and South Yemen united in a bumpy merger in 1990 that later devolved into civil war four years later. Saleh's forces crushed the secessionist south and reunited the country.
Saleh, eyeing the unrest spreading in the Arab world, indicated last week he would leave office when his term ends in 2013. The president had previously cut taxes and promised salary raises to civil servants and the military.
Such concessions could tempt his political opposition into joining him in a unity government -- they have yet to take an official stand. But southern separatists may not be satisfied.
Many in the south, which holds most of Yemen's oil installations, complain that northerners usurp their resources while denying them their identity and political rights.
Army tanks rolled into Zinjibar, the capital of Abyan, where suspected al Qaeda militants have been active and over a thousand protesters gathered on Friday. Hundreds of men sat outside a former South Yemen leader's home, wearing white shrouds to symbolise their readiness to fight to the death.
"Ali, Ali, catch up with Ben Ali," they shouted, implying that Saleh should follow former Tunisian President Zine al-Abidine Ben Ali to exile in Saudi Arabia.
In Aden, police fired shots in the air and arrested four people to break up protests, but around 600 separatist and anti-government protesters regrouped in the Saada neighbourhood, which for months has been sealed off by armed men.
Saada, a stronghold for militants in the south, was shelled by security forces last summer after the military clashed with men who the government said were al Qaeda members.
Yemen is the Arab world's poorest state. Forty percent of Yemenis live on less than $2 a day.
Source: Reuters